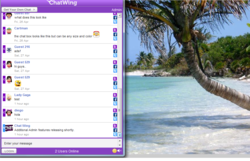 Detroit, MI (PRWEB) April 27, 2012
One of the most famous niches of blogging today is travelling. This is because of the fact that many people are looking for ways on how to travel easily. Adding to that, they also want to discover new places. The developers of the Chatwing chat box have realized the strength of the travel niche. This is why they upgraded Chatwing's new release, making it more efficient and reliable than ever.
Chatwing may appear as a simple free chatroom that can be used by everyone. In a way, this is true. Simplicity is one of the main goals of Chatwing's developers. However, this rate of simplicity has also contributed to Chatwing chatrooms overall rank. Because Chatwing is straightforward, people can use it without a fuss. According to travel bloggers, this simplicity is a gold mine. A straightforward chat application saves much time and delivers messages clearly to blog visitors.
Itinerary and vacation blogs have also benefited from Chatwing's latest release. With a handy online communication tool, people can now post their inquiries. This has been proven useful for people who are always on the go, such as businessmen and travel writers. Adding to that, people also use Chatwing to gather tips on how to travel easily. Common travel discussions noted in Chatwing are survival in remote areas, travel experiences, best landmarks to see, language and culture exploration, and dealing with travel jitters.
Installation of the Chatwing website shout box also doesn't take a large portion of time. It can be accomplished in just minutes. First, the user must register his blog or website's domain name. After that, he must create an official Chatwing account that will serve as his dashboard. With that, he can now proceed to customization. The user can customize the height, width, color, and title of the widget. If there is no title provided, Chatwing will generate a random string. Once everything has been completed, Chatwing will generate the needed HTML code.
People who want to use Chatwing can visit its homepage. Alternatively, they can also check out Chatwing's Facebook page for updates and fresh content.
About Chatwing
Chatwing.com is a free shout box for all web pages or blogs. It also lets anyone create free chatrooms on any website or blog. The Chatwing.com website chat offers users the ability to signup and create a customizable live chat box instantly with few details. Users have the ability to select the size, dimensions, and colors of the shout box. The ability to live chat with Facebook, Twitter or guest avatars is a unique feature which includes social sharing features in real-time. Chatwing is free chatroom software available to any user.