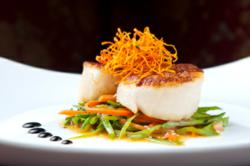 The new menu is great, all sourced locally from sustainable sources...
Basingstoke, UK (PRWEB UK) 28 April 2012
Website designers in Cornwall generally are quite small and tend to work with local businesses due to the emphasis on sourcing locally. This was the thinking behind a dynamic up and coming restaurant in Newquay, who wanted to select a local website design agency that can visit the restaurant and experience first hand the environment and ambiance. Due to the hundreds of website designers around the Newquay area, Marketing Quotes was approached to try and help find a local designer that had experience in designing websites for restaurants in the past.
The owner of the restaurant commented 'we have just designed a brand new menu and had the interior of the restaurant spiced up (nothing to do with Kitchen nightmares I promise), so are really keen that the new website has lots of bright pictures showing what a clean and fun place it is to visit either for an evening meal with friends, or for a special occasion with nearest and dearest. The new menu is great, all sourced locally from sustainable sources, organic and well priced, so we want the website to showcase how good the food really is. We wanted the designer to be local so that they can visit us and really get the feel of what the personality is so they can project this through the site. We have met up with a couple of designers and have decided on a small web designer based just up the road, which fits well.'
Anne Richards (who works for Marketing Quotes) added 'we know hundreds of web designers around Cornwall, but that is just too much for most people, so we helped by filtering the designers that had experience of designing websites for restaurants as opposed to other market sectors. As the client wanted the personality of the restaurant to come across in the website, location was important and we hope they offered the designer a discount on their meal. We do hope they work well together and the website helps in the marketing of the restaurant in the local area which is popular for seafood restaurants.
About Marketing Quotes - Marketing Quotes is a free service to UK businesses to help them get free advice and quotes from local designers and website developers that know their industry and market place.