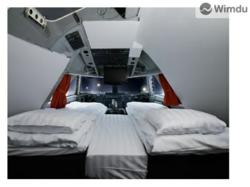 (PRWEB UK) 30 April 2012
With the summer holidays fast approaching, flight bookings are on the rise. For many Brits, taking a flight is simply a means of getting to the real start of the holiday. But now with the launch of a deluxe suite built into the cockpit of a jumbo jet, sleeping onboard can be a first class holiday in itself.
For only £303 a night, home rental company Wimdu.co.uk is offering the chance to sleep in the cockpit of a Boeing 747 whilst it sits overnight on the runway at Arlanda airport, Sweden.
A plane spotters dream, the aero plane cockpit has been converted into a spectacular suite for one or two people, and features adjustable beds, free wireless internet and a private bathroom and shower. The suite contains a flat screen TV, installed to enhance the original controls and interior, but guests can also enjoy the thrilling views of air traffic at Arlanda airport through the eyes of a pilot.
A truly amazing experience, at the controls of the Queen of the Skies!
A first class night in an aero plane cockpit in Sweden: http://www.wimdu.co.uk/offers/1W1Z9FMT
About Wimdu
Wimdu is a social accommodation community that brings together travellers and hosts from around the world to enable consumers worldwide to travel like a local.
Wimdu enables hosts to generate additional income on their spare rooms, while guests can search for a room and a rate that suits them. The site lists a range of over 50,000 properties internationally across over 100 countries with everything from boltholes in Berlin to English castles.
Wimdu was founded in 2011 by serial entrepreneurs Hinrich Dreiling and Arne Bleckwenn who wanted to harness social media to transform the way consumers are travelling worldwide. Wimdu's Managing Director in the UK, Karim Hardane, manages a team of over 30 and lists over 3,000 properties nationwide.