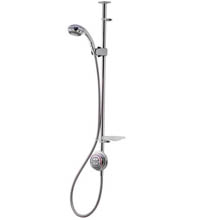 Digital showers have a wide range of advantages - and are fantastic for children and older people
(PRWEB UK) 30 April 2012
Most bathrooms, especially in family homes, take a real pasting, and décor, fixtures and fittings can quickly look less than lovely. But don't be daunted. With some clever planning and product choices, any bathroom can have a facelift in no time – and thanks to some fantastic deals such as those at Gainsborough, it needn't be a budget-buster.
If the shower needs replacing, why not look at a smart new thermostatic mixer such as Gainsborough's TT07, which features classic, cross-head topped dual controls and a height adjustable, family-friendly showerhead.
Handily, its rectangular-shaped plate is also generous enough to conceal the evidence of any less glamorous predecessor! Best of all, the TT07 is now available for just £99.99, which includes VAT and FREE next day delivery – a huge saving on its original price of £249.00.
Having a great shower is now a vital element of any bathroom, no matter its shape or size. But what are the options if installing a shower from scratch? Three basic 'technologies' – thermostatic, digital and electric – are available and the one chosen will be dependent upon the type of plumbing system the household has.
Gainsborough Showers always recommend asking a qualified plumber to give the property's plumbing system the once over; they'll be able to confirm exactly what sort of system is present and also advise on need-to-know information such as water pressure.
One of the most compatible showering technologies is digital and Gainsborough's Digital Shower, which is available from just £399.00, is no exception. It's available as a standard model, which will partner with high pressure and combi boiler plumbing systems or as a pumped model, which is suitable for gravity-fed systems.
Digital showers have a wide range of advantages. These include easy, one-touch functionality – fantastic for children and older people – and an LED display on the shower's control that indicates the readiness of the water's temperature. Best of all, digital showers are incredibly easy to install – a real bonus for bathroom makeovers.
Unlike conventional, thermostatic showers, which have a mechanical valve, digital showers are controlled by a small, compact box that is situated away from the showering area. No bigger than a shoebox, hot and cold flows of water feed into the box, which then thermostatically blends the water with precision accuracy. The box is usually sited in the loft, an airing cupboard or sometimes under the bath. But wherever it is positioned, there is no need for the bathroom wall to accommodate a chunky valve – and accordingly – no requirement for extensive plumbing work.
In fact, it gets better… Because the Gainsborough Digital Shower's control is mounted onto a riser rail, only a very simple fix is necessary. It is unlikely that fitting the shower will cause any damage to the bathroom's tiling or décor and the new shower could be up and running in as little as a few hours.
When revamping a second bathroom, for example, an en-suite or downstairs cloakroom, then why not consider an electric shower? Unlike thermostatic and digital showers, electric showers do not depend upon a reserve of hot water; they heat the water as it is required. So in households with a small hot water tanks or plumbing systems that simply won't stretch to providing enough hot water for two showers, an electric shower could be the solution.
The latest generation of electric showers – take a look at Gainsborough's CSE or Stanza showers – have really moved on in performance, too. They are available in different power units (starting at 8.5kW) and feature simple controls temperature and flow controls. Showerheads feature clever, spray control technology that helps to maintain the showerhead's spray pattern by adapting to the temperature of the incoming water and there are 'smart' features, too – like 'push click', which prevents the shower's hose from becoming twisted.
Gainsborough's CSE electric showers start from just £89.99 including VAT and FREE next day delivery, whilst a stylish Stanza electric shower could be cheering up a new bathroom from just £112.00 including VAT and FREE next day delivery.
So, it's easy to see, there really is a shower for every bathroom – no matter the plumbing system or pennies in the piggybank. And, once the shower is sorted out, what else? Well, Gainsborough have got some great ideas for sprucing up the rest of the bathroom, too…

New basin taps can work wonders on tired sanitaryware. Just like new buttons on an old coat, it's amazing what can be achieved with a smart, stylish chrome number
If space is at a premium, invest in having a mirror cut to cover one wall of the bathroom. It's a fabulous, never-fails optical illusion that even top interior designers use
Open up a small room with light, pale and/or pastel colours and then create interest with coloured accessories, a coloured floor – it could be painted, or a tiling feature added. Check out the end-of-line bin at a local tile merchant for small quantities of interesting tiles that could make a striking splash back or bath surround
Give tiles a makeover with specialist tile paint or simply buy a grouting pen and brighten up the lines. Banish any mildew or grime first with diluted bleach in a spray bottle and get to work with an old toothbrush and pair of protective gloves.
Be spoilt with a new set of towels. The big supermarkets are favourites for fantastically priced, zippy-coloured towel bales that will really add a touch of luxury to any bathroom.
Got an over-bath shower? Go onto eBay and buy a length of designer fabric. Run up a shower curtain by having eyelets punched into the top – and buy another length of plastic shower liner to protect it.
Accessorise! Give a nipped and tucked bathroom the finishing touch by adding a co-ordinated toothbrush holder, toilet roll holder and towel rail or ring.