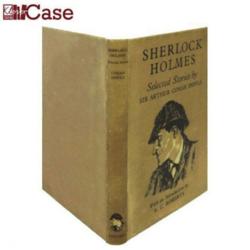 Birmingham, West Midlands, United Kingdom (PRWEB UK) 30 April 2012
Following the official release on the Kindle Touch today Mobile Fun, the UK's leading online retailer of mobile phone accessories have sourced the KleverCase range; a stunning variety of Kindle Touch covers which disguise the Kindle as a vintage work of fiction.
Said to be Amazon's most advanced E-Reader, the Kindle Touch sports an E Ink display helping to make e-books read like they're on real paper in all light conditions, whether that be bright sunlight or dimmer conditions. Another new feature to the Kindle Touch is X-Ray which helps to explore the 'bones of the book' further for deeper understanding of the novels.
The KleverCase is perfect companion for the new Kindle Touch and its features, by disguising the Kindle as a famous work of fiction, such as Sherlock Holmes, Dracula or Alice In Wonderland. This design of the Kindle Touch Case, combined with the E Ink feature makes the user feel like they're reading a vintage novel, rather than using an e-reader.
Not only stylish, the Klevercase range are highly protective, stopping the Kindle from becoming damaged: in fact any damage on the KleverCase only adds to the vintage feel the case has. Another way in which the KleverCase can be seen to protect is that it may deter thieves due to looking like a hardback book, rather than a Kindle.
Internally, the Kindle Touch is securely held in place to ensure that it doesn't move during transport and is 100% accessible to all the ports and features of the Kindle so that it remains functioning at all times.
The perfect case for fiction fans, the KleverCase range is available now from Mobile Fun as part of their Kindle Touch accessories.
-ENDS-
About Mobile Fun
Birmingham based MobileFun.co.uk is the UK's leading online retailer of mobile phone accessories, Sim Free mobile phones, ringtones and mobile java games. Mobile Fun have offices in the UK, Germany, Spain and France and deliver products to over 50 countries worldwide. Mobile Fun won the title of Online Retailer of the Year at the Mobile News Awards 2012 for the second year running and was ranked 6th in the Experian Hitwise Top 10 websites of 2010.