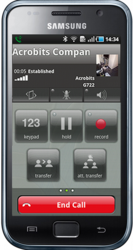 Prague, Czech Republic (PRWEB) April 30, 2012
Acrobits, the leading developer of SIP Clients for iOS and Android, announced the long awaited release of their popular business caliber SIP client Groundwire on Android. Groundwire includes all the features of Acrobits Softphone as well as the additional features business users need. Including but not limited to transfer and attended transfer, call conferencing, multi line and voicemail notification; Groundwire puts all the tools professional SIP users need in the palm of your hand.
With Groundwire, Acrobits also brings support for ZRTP to Android. The most advanced method for call encryption in VoIP, ZRTP is a must have for users who want the most secure calls possible. In addition, Acrobits adds support for SDES SRTP. Both features will be available in both Acrobits Softphone and Groundwire for Android. Groundwire is available on Google Play and the Amazon Marketplace now. A new update for Acrobits Softphone is also available which adds support for ZRTP and SDES SRTP.
And expect more from Acrobits soon. They are now working on an iPad specific version of their iOS clients, which Acrobits promises will be the first VoIP Client truly designed for the tablet experience.