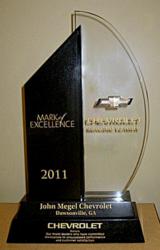 ...we will continue to provide the same great service that brings customers back again and again...
Dawsonville, GA (PRWEB) April 30, 2012
GA Chevy dealer, John Megel Chevrolet, announced that they have been recognized by GM as one of its Mark of Excellence dealerships. The Mark of Excellence award is a unique distinction reserved for only the best GM dealers. These dealerships exhibit professionalism, superior customer satisfaction, and maintain excellent sales while expanding their business. Out of 4,500 Chevy Buick GMC dealerships across the country, John Megel Chevrolet was in top 7% of dealerships to win this coveted award.
In Georgia, John Megel Chevrolet was ranked at number 10 out of 83 dealerships for new retail Chevrolet sales which helped them earn the Mark of Excellence for 2011. This puts them on the map as one of the top Georgia Chevrolet dealers, and it doesn't come as a surprise that John Megel Chevrolet has been recognized. Their dealership is not part of a corporate franchise, but rather a family-owned business dedicated to nothing short of superb customer service. They have been in automobile business for over 59 years, and combined, their staff has over 400 years of automobile sales experience.
New car sales are the key to winning a Mark of Excellence award, and this Dawsonville GA Chevrolet Dealer has continued to increase its annual sales, even in the poor economy of the last few years. The Mark of Excellence award's strict eligibility criteria is called the Sales Excellence Index (SEI), and John Megel Chevrolet has met or exceeded all SEI criteria for the 2011 award year. One of the key factors in the Dealership's continued growth in sales is the performance of its Online Sales Department, which has continued to maximize its sales figures year after year. These alone account for a large percentage of annual sales. Other critical factors in John Megel Chevrolet's sales growth include its highly experienced leadership team, a highly trained team of sales associates, and a great location on GA 400 between Dawsonville and Cumming GA with a huge selection of new and used Chevrolet Cars, Trucks, and SUVs.
Jonathan Megel, General Manager of John Megel Chevrolet, commented on the Dealership winning the GM Mark of Excellence Award. "We are very proud of being awarded the GM Mark of Excellence for 2011. There are over 80 Chevrolet Dealers in Georgia and to be among the top performing dealerships for 2011 is truly outstanding. Everyone on our Megel Chevy team had a part in helping us win this important recognition from General Motors. John Megel Chevrolet has a long history as a North Georgia Chevy dealer, and we will continue to provide the same great service that brings customers back again and again. Our goal is to continue to expand our business over the remainder of 2012 and throughout 2013. Winning the GM Mark of Excellence tells me that we are on track, and that we are doing our job right."
John Megel Chevrolet serves the Atlanta area with new and used Chevrolets from Dawsonville, GA. John Megel Chevrolet is located at: 1392 Highway 400 South, Dawsonville, GA 30534, Phone: 706-265-5400. Website and web marketing services are provided by Atlanta SEO Company, Interactive Search Marketing.