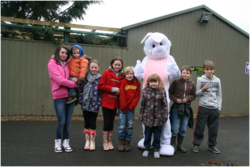 Ponderosa is a successful local business just like ourselves, and in these troubled economic times it is something to be proud of when two diverse companies can come together and produce such a successful event
Heckmondwike, West Yorkshire (PRWEB UK) 30 April 2012
The cleaning, catering and vending company based in Heckmondwike, West Yorkshire have always made their contributions to charity a fundamental aspect of their objectives as part of their commitment to corporate social responsibility, and the past few months have been no exception!
In March, CSG were approached by their client Edward Duffy, at Spark Response, who enquired whether they would be able to support their Sports Relief fundraising event. Consultant Services Group were delighted to be asked, and catered for the evening with an extensive buffet. The evening was a huge success, and whilst the official amount of donations took on the night has yet to be confirmed, the figure looks to be in the region of £46,000.
Their involvement was praised highly by their client "Your contributions to our Sport Relief event is another example (if it was needed) that the transfer of our catering requirements to yourselves was the right decision for our company".
A month later in April, CSG teamed up with the Ponderosa Rural Therapeutic Centre over the Easter Bank Holiday.
Ponderosa, a local charity in Heckmondwike, was originally established by a group of people who wanted to help bridge the gap between disabled and able bodied people in the area, and CSG were keen to support this worthwhile cause. They therefore contacted Ponderosa to offer their support by way of offering Easter Eggs which had been donated by their suppliers.
The Easter Egg Hunt took place at Ponderosa over Easter Sunday and Monday. As an extra special surprise, CSG managed to contact the Easter Bunny and arrange a visit to Ponderosa on Easter Monday where more eggs and treats were distributed throughout the day by the Bunny and his 9 year old helper Eran-Leigh from Batley.
Unfortunately the weather wasn't great but everybody who braved the rain enjoyed their visit including the Easter Bunny appearances. Lisa from Ponderosa said, 'the event was a resounding success,' and has indicated she is looking forward to the two local companies working together again in the future.
CSG Chief Executive, Simon Midgley, said "it's great to be able to help out at local events and good causes and to see all the children enjoying themselves and having fun, despite the weather. Ponderosa is a successful local business just like ourselves, and in these troubled economic times it is something to be proud of when two diverse companies can come together and produce such a successful event."