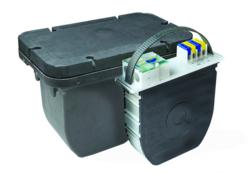 great distribution point to power all your LED lighting.
Milford, CT (PRWEB) April 27, 2012
Q-Tran Inc. introduces remote LED power supplies that are listed to be directly buried into the ground, providing a great distribution point to power all your LED lighting.
The Q-SETeLED & Q-SETMLED Power Supplies remotely power LED lighting. These products mount directly into the Q-VAULT-5, an IP68 listed enclosure, capable of being buried into the ground or in concrete.
The Q-SETeLED comes available in either 60 watt or 120 watt (12VDC) or 100 watt or 200 watt (24VDC) models. Up to two Q-SETeLED's fit inside one Q-VAULT-5 allowing up to four LED power supplies inside of one Q-VAULT-5.
The Q-SETMLED is available from 60 watt-300 watts in 12VDC or 24VDC. One Q-VAULT can accommodate up to 2 Q-SETMLED units. Boost taps provide the ability to recover voltage drop over longer runs and secondary circuit protection prevents any damage to the LED lighting.
The Q-VAULT-5 is IP68 listed in a five-inch housing equipped with a door, gasket, two stabilizing bars and a water-tight installation kit. The kit, which enables the contractor to install the unit efficiently for long-lasting durability and operation, includes one epoxy packs and an application syringe, water-tight putty, desiccant pouch, silver marker, installation instructions, spare parts, drilling guide labels, and wire ties. The housing cover is offered with a Stainless Steel Diamond or Bronze Plate, and with a Flush Mount or Concrete Pour Ring. It measures 9.5 inches long, 16.5 inches wide and 12.5 inches deep.
The Q-SET standard halogen or AC fed LED fixtures come in three circuit breaker configurations. Available in the Q-Scape System are: Q-SET1, which ranges from 60 watts to 300 watts, offers a single circuit breaker in a 2.5-inch cassette; Q-SET2 ranges from 360 watts to 600 watts, includes two circuit breakers in a five-inch wide cassette; and Q-SET3 ranges from 540 watts to 900 watts, is equipped with three circuit breakers in a five-inch wide cassette.
All of the Q-Sets include five secondary taps, ranging from 11 through 15 volts, which are used to compensate for losses when dimming. Loads may be connected at varying distances and to one or more of the secondary taps to recover voltage drop while producing 85 to 100 percent light output. Primary and secondary circuit protection meets or exceeds the NEC Article 411 for UL-2108 and UL-1838 Landscape Lighting Codes, and the Pool and Spa Wet Label Direct Burial Standard.
Many of the LED fixtures designed for landscape lighting are designed for 12VAC, which is our standard Q-SET transformer. If the fixture requires a remote LED power supply our Q-SETeLED or Q-SETMLED would be recommended.
The patented Q-Scape also includes an innovative grouping of Q-Wires, Q-Clik fittings, and other components.
About Q-Tran, Inc.
In 1993, Q-Tran, Inc. was founded by John Tremaine, an accomplished lighting designer who was born into a family of lighting entrepreneurs and innovators. He began his career with The Miller Company, a firm acquired in the 1930's by his great grandfather, who founded the National Electric Lamp Association (NELA) before selling it to John's grandfather. In the early 1920's NELA became General Electric's lamp division in Cleveland, Ohio, and was later transformed into a prestigious research institute that is still thriving today.
Q-Tran was established to fulfill a need in the lighting industry for flexible remote transformers that eliminate noise and heat while enhancing the quality of light output. Operating with the mantra "EnlightenedThinking®," Q-Tran has pioneered innovative transformers and power supply centers to provide safety, reliability, performance and convenience. It was the first company to develop an entire power supply center designed specifically for low voltage lighting. Over the years, Gean Tremaine and Jordan Nodelman would take their place by their father's side, helping to build Q-Tran into a leading designer and manufacturer of high-quality, power supply systems, transformers and components.