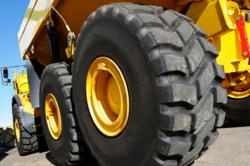 We are in position to quickly fulfill the global shortage of giant OTR Tires and help our customers ...
Hong Kong, PRC (PRWEB) April 30, 2012
Xtreme OTR Tire Company (XOTC) Ltd , Hong Kong, a rapidly growing tire manufacturer for XTREME LOAD Off-The-Road (OTR) tires, announced that it has giant OTR Tires to help meet the global shortfall. The worldwide shortage of giant OTR tires is having a negative impact on production in the mining and construction industries, which consume a substantial amount of the OTR tire supply. Companies needing replacement tires are having a difficult time finding any substantial inventory of OTR radial or bias tires for their heavy equipment. Xtreme OTR Tires can quickly supply many of the sizes that have been hard to find during the shortage including: Radials in sizes 27.00R49, 33.00R51, 36.00R51 and 40.00R57 and Bias in sizes 27.00-49/48pr, 33.00-51/58pr, 36.00-51/58pr, 37.00-57/68 pr, 40.00-57/68pr and 46/90-57/76pr. Customers can have their tire orders shipped in container loads and delivered to most ports.
A major factor in OTR tire demand is global growth in the mining sectors in India, Australia and Indonesia. These countries are projected to have large investments in mining operations in 2012, which will continue to drive increased demand for giant OTR tires. Some tire manufacturers claim to be producing tires at full capacity, however the shortage of giant OTR tires remains unabated. As demand increases, the prices in the giant OTR market are rising due to increased costs of raw materials. XOTC's tires are available at special pricing which can save customers money. While other tire suppliers are taking orders for manufacturing, XOTC is offering quality tires for fast shipment. XOTC's ability to quickly fill orders is an answer to quick acquisition of OTR Radial tires and Bias tires for the mining and heavy construction markets.
The Xtreme OTR Tire Company's U.S. based engineering staff has over 400 years of engineering experience manufacturing OTR tires. Their XTREME LOAD tire line meets the most stringent specifications for off-the-road heavy equipment operations in the mining and construction industries. Xtreme OTR tires are available for cranes, graders, trucks and loaders. The company also provides an OTR tire field service support program and a limited OTR tire warranty to ensure customers get the most from their tire investments.
Peter Ahumada, Vice President of Xtreme OTR Tires, L.L.C., talked about the XOTC's capability to ship products. "With the current shortage of giant OTR tires, we want our customers to get the tires they need for their operations and our pricing makes these tires a great deal. Our XTREME LOAD OTR tires perform with some of the best on the market and all of our tires are sold with a warranty, so customers can be assured that we stand behind our tires. We are in position to quickly fulfill the global shortage of giant OTR Tires and help our customers keep their heavy equipment in operation."
Xtreme OTR Tire Company is a Hong Kong based tire manufacturer that can be contacted through their website or by phone at 954-755-2401.