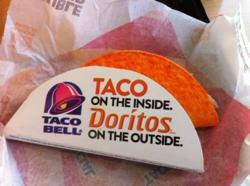 Acquiring new customers is one of the most expensive and time intensive elements of marketing, and joint ventures are a way of speeding up the process while nearly eliminating much of the costs of prospecting.
(PRWEB) April 27, 2012
Taco Bell's new Doritos Locos taco, a taco with a Dorito chip shell, has helped the fast food chain bounce back from a year-long slump in sales. The newly branded tacos were launched in March of 2012, and sold 50 million units in the first week. These numbers boosted Taco Bell's first quarter earnings by 6 percent.
Charles Gaudet, marketing expert and founder of Predictable Profits, notes the value of joint ventures, commenting that, "Joint venture marketing is not just for large companies like Taco Bell. They offer a wonderful opportunity for small businesses to leverage the trust, branding and relationships they have with their customers. If done effectively, these campaigns are win/win/win situations, benefiting both companies and the consumers they are marketing to."
As part of his Predictable Profits Promotion Strategy for entrepreneurs, Gaudet sings the praises of joint venture marketing, and its potential to unify separate customer groups. For small business owners, joint ventures can significantly reduce costs and increase profits. Gaudet continues, "Acquiring new customers is one of the most expensive and time intensive elements of marketing, and joint ventures are a way of speeding up the process while nearly eliminating much of the costs of prospecting."
Gaudet suggests small business owners ask the following five questions when considering joint venture marketing:
1. What needs or wants to my customers have when they do business with my company?
2. What related products or services do they want, need or could be interested in?
3. What non-competitive companies have a product or service that my customers could benefit from?
4. What non-competitive companies already have customers that could benefit from my products or services?
5. How can we work together and share in the additional profits?
With joint venture partnering, one company endorses another company's product or service to "warm" leads, individuals who have already built a relationship with the company offering the promotion. By sharing in the profits generated from their joint efforts, these companies increase value of their customer. This also functions to bring new products directly into the hands of trusting customers.
"With the Doritos and Taco Bell Joint Venture, executives leveraged the goodwill and brand recognition of both companies to earn the trust of their customers. Rather than Taco Bell creating a no-name taco, the Doritos brand provided the customers with the confidence in knowing what to expect. As a result, Taco Bell attracted additional sales from Doritos fans and Taco Bell fans were given the opportunity to become Doritos fans. In the end, everyone benefited," says Gaudet.
As a marketing expert, Gaudet encourages small business owners to learn from this example. Taco Bell and Doritos were able to capitalize on a well-timed promotion because they found a novel and valuable way to combine products and promotional efforts.
For more information on the Predictable Profits Promotion Strategy, please visit http://www.PredictableProfits.com and sign up for the free newsletter.
ABOUT CHARLES GAUDET: Gaudet started his first business at just four years old, and has been involved in entrepreneurial enterprises ever since. Upon finding himself in millions of dollars of debt and under enormous stress at the age of 24, he and his wife systematically grew their first multi-million dollar company. Gaudet has traveled much of the world studying from business, political and social leaders studying entrepreneurial, marketing and business excellence. He is widely regarded as a marketing expert for consistently delivering windfalls of profits to his clients, unveiling opportunities that have been previously under-utilized or have gone unnoticed.
He is the founder of PredictableProfits.com, the creator of the Predictable Profits (TM) methodology and the author of the popular blog at http://www.PredictableProfits.com/blog.
ABOUT PREDICTABLE PROFITS: Predictable Profits is a leading small business marketing company and a division of Managed Marketing, LLC. The company specializes in finding overlooked marketing opportunities commonly found in most small-to-medium sized businesses, and creating actionable marketing strategies for increasing a company's profits. You can read more about Predictable Profits by visiting the company's website at http://www.PredictableProfits.com.