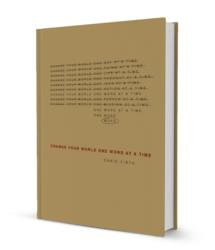 Life is How You Language It.
Fort Collins, CO (PRWEB) April 30, 2012
On April 23, 2012 in Fort Collins, CO., David Firth took the stage at TEDxCSU to share his idea worth spreading: "Life is How You Language It." A simple yet radical approach to the concept of socio-environmental stewardship, David's talk examined the basic nature of sustainability as a relationship between language and action. He concluded that in order to achieve lasting change on a global scale, we must first challenge the conversations that have created a tradition of change needing to happen 'out there' and 'by someone else'. Offering a uniquely personal way to live more sustainably, David asked the audience at TEDxCSU to commit to a simple diet - a speaking diet.
TEDxCSU's environmentally conscious theme "Growing Greener Generations" served as a call to action for students, faculty, and community members alike to live more sustainable lives. The focus of David's presentation – that we use language to create our reality, and that we can make that reality more powerfull by harnessing the power of words – challenged the idea that sustainability 'exists' in the world. It is rather a collection of ideas and movements, designs and applied technologies that depend above all else on the longevity of words and the determination of those speaking them. David argued that the true beginning of sustainable change must begin with the individual taking 100% responsibility for their lives – not just in terms of 'being green' but in all aspects of their lives. The source of this 'personal sustainability' are the words we use on a daily basis to construct meaning out of our lives. His challenge, to commit to a speaking diet, is a direct effort to turn the 16,000 words the average person speaks every day into a more intentional platform for long-term change. This has profound implications for business and government, as well as our day to day lives.
The inspiration for David's talk was taken from his new ebook "Change Your World, One Word at a Time." David takes a close look at how even the smallest changes in how we communicate can have incredible effects on the way we structure our lives. David's book is available for purchase online, and through his website at http://www.davidfirth.com/buy-davids-books/
About the Event
TEDxCSU was a licensed event authorized by the TED Conferences LLC. Hosted by world-renowned animal sciences professor Temple Grandin and organized by undergraduate students Hannah Toole, Brooke Burtard, and Adam Suriel-Gestwiki, the independently organized TED event drew a crowd over one thousand strong at the Lincoln Center in Fort Collins.
About the Book
The inspiration for this book comes from a single sentence:
WHALES DO NOT HAVE TOO MUCH TO DO
This is not because they are whales and we are human beings and all whales have to do is be a whale and/or swim and/or eat whilst we as humans have considerably more to do on any given day. It has nothing to do with that difference at all. It has to do with Language.
To download a preview of David's book, visit http://www.davidfirth.com/buy-davids-books/
About David
David Firth is an organizational development consultant, a business writer, a published author, and an acclaimed conference speaker. He specializes in change management at the individual and professional level, and is intrigued by corporate culture and engagement. Through his coaching and organizational development consulting, David is helping companies create a sustainable generation of healthy, compelling places to work.