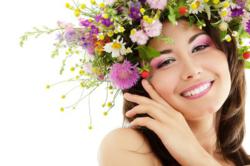 Wedding fairs and bridal modelling go hand in hand.
London, UK (PRWEB UK) 28 April 2012
Wedding fairs and bridal modelling go hand in hand according to the UK's biggest online model agency directory - but is size important?
'Getting married should be the happiest day of your life. From the moment you decide to spend your lives together, the treadmill of the preparation of your impending marriage and all the apprehension that comes with it, usually builds to wedding fever pitch at this time of year,' continues Helen. 'From finding the venue, the worry of which stationery to choose, who to invite or not; a wedding takes so much preparation and time. The most important part of wedding prep for the bride-to-be is all about the dress, what the groom will wear and the bridesmaids and page boys too.'
She goes on to explain that bridal modelling is all the rage, particularly at this busy time of year when wedding fairs reach their peak. It's a type of modelling which needs men and women of all shapes and sizes. Bridal shows throughout the UK try to highlight a variety of models to promote real life situations. 'Brides and brides maids diet to get into that tiny dress,' says Helen,' but in reality most brides and their maids would fit into the plus size modelling category for sure. It's not often a bride is a fashion and catwalk modelling size in real life, so therefore, the businesses promoting their bridal wear at wedding fairs and in magazines, want real people to show their garments off.'
With a website packed full of model agencies to choose from, UKMA also list a huge selection of wedding photographers, the professionals who dedicate themselves to capturing the bridal modelling look, whether it's for real or for fairytale.
'This genre of modelling is always on the lookout for typical wedding guests,' Jim Dawson explains, Chief Press officer for http://www.ukmodelagencies.co.uk. 'The mother of the bride is very important and there are so many fashion and catwalk modelling shows dedicated to just bridal modelling. They also need models of all ages to act out the part of in-laws, friends and wedding guests.'
The model agency directory keep their ear to the ground and offer a website full to bursting with modelling information and all the latest model news. As soon as they hear casting calls relevant to their site, UKMA shout the news to all their online readers.
'We pride ourselves on finding out the modelling jobs as they arise, and it's not just seasoned models who avidly view our ever updated website,' says Jim. With brand-new sections added daily, UK Model Agencies are at the cutting edge of the modelling industry and keep their finger on all the latest fashion fads and modelling trends.
The new bridal modelling section on http://www.ukmodelagencies.co.uk is open for business.