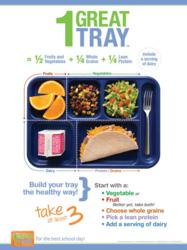 1 Great Tray educates and encourages students to make healthy choices for school lunch.
Owatonna, MN (PRWEB) April 27, 2012
In preparation for the new National School Lunch Program requirements that take effect July 1, districts now have a new educational tool to encourage students to fill their lunch trays with the nutritious vegetables and fruits required for USDA reimbursement.
Now it's easier than ever to teach and show students and staff how to make healthy choices at lunchtime with 1 Great Tray™, a series of educational materials featuring visuals of fruits, vegetables, whole grains, lean protein and low-fat dairy in correct portion sizes, all placed on the tray kids see every day at lunchtime.
Learning ZoneXpress's 1 Great Tray line includes posters ($9.95), tablets ($9.95), dry-erase menu boards ($89.95 – $235.95), notepads ($19.95), banners ($125.00), bulletin board kits ($24.95) and bookmarks ($6.95), and are available at LearningZoneXpress.com.
In February, the University of Minnesota conducted a study in an elementary school cafeteria using pictures of fruits and vegetables on lunch trays. Students who were given visual hints were more likely to choose and eat their vegetables because they thought it's what they were supposed to do and it was what everyone else was doing. "Similar to what the university study found, we're embracing the idea that if kids are shown, and not told, how to eat, they are more likely to make healthy choices," said Learning ZoneXpress president and founder Melanie Nelson. "1 Great Tray educates and encourages students to make healthy choices for school lunch."
For the past two years, Learning ZoneXpress has been providing parents and educators with 1 Great Plate®, a visual representation of what a healthy plate should look like. With new changes to the National School Lunch Program as part of the Healthy, Hunger-Free Kids Act of 2010, Learning ZoneXpress extended the concept to school cafeterias, making it easy to help students, parents, and staff make healthy, nutritious choices.
About Learning ZoneXpress
Learning ZoneXpress, based in Owatonna, Minn., is a leading source of "edu-taining" and award-winning teaching tools. Its mission is to help improve the health and vitality of children by providing relevant, creative and affordable learning tools about life skills, healthy behaviors and nutrition. Learning ZoneXpress offers a wide variety of learning aids and affordable education DVDs, posters, games, lesson plans, and PowerPoint presentations. For more information about Learning ZoneXpress products, visit http://www.learningzonexpress.com or call Toni Gnasdoskey at 888-455-7003.