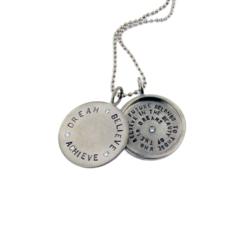 "...hands down the best jewelry shopping experience I have ever had. Elisha & Andreas were such a pleasure to work with. I think if they went into the Shark Tank they might just start a feeding frenzy!"- Barbara Lampugnale, The Shark Tank Participant
Savannah, GA (PRWEB) April 27, 2012
Barbara Lampugnale came up with an innovative twist on nail polish. That idea gave her an opportunity to appear on the wildly popular show, "The Shark Tank". To commemorate her experience, Barbara wanted to make a special necklace. Her searches for custom jewelry led her to Metalpressions.com, a small jewelry business that has developed an exclusive online jewelry design tool.
"When Barbara approached us, we had no idea she had just finished taping her appearance on The Shark Tank. She called us up and we talked for a while. We really connected with each other because we are both entrepreneurs at heart," recalled Andreas and Elisha Argentinis, co-founders and owners of Savannah, Georgia-based Metal Pressions.
"Barbara had all these great ideas for a custom charm necklace with sayings that helped keep her motivated on her journey. As we talked, I mocked up her ideas with our online jewelry design software. She pulled the design up on her screen and did some tweaking herself. I think she was ecstatic that she could have a preview in minutes," stated Andreas.
"After years of hard work and sacrifice, I wanted to commemorate my journey and appearance on The Shark Tank by creating a charm necklace with my favorite inspirational words and sayings. I found Metalpressions.com and was so thrilled that I could easily use their online jewelry design software. This enabled me to create and design my own charms and see what my necklace would look like before I made my purchase. When my necklace arrived, it was exactly how I envisioned it. I was so impressed and filled with emotion. It was hands down the best jewelry shopping experience I have ever had. Elisha and Andreas were such a pleasure to work with. I think if they went into the Shark Tank they might just start a feeding frenzy!" said Barbara Lampugnale, The Shark Tank participant whose episode airs Friday April 27th.
Elisha and Andreas' experience with Metal Pressions is the quintessential small business success story. Prior to establishing Metal Pressions, both Elisha and Andreas had successful careers in the corporate world - - Elisha in pharmaceutical research and Andreas in internet marketing and manufacturing - - yet neither felt "fulfilled" by their work.
In 2004, Elisha and Andreas relocated from Fairfield, Connecticut to Savannah, Georgia. At the time, Andreas was in operations management in the manufacturing sector and Elisha had taken a break from the corporate treadmill to start a family. A biology major with a creative flair, Elisha had been making and selling custom crafts and jewelry items for several years. Her hobby provided a creative out¬let as well as "fun money" for the young family.
By 2008, demand for Elisha's custom-made jewelry items was consuming more and more of the couple's time and energy. After discussing various "quality of life" issues impacting their soon-to-be family of five, the couple made a life-changing decision: they would opt out of the corporate world and devote their full-time energies to turning Elisha's hobby into a bona-fide business enterprise. Combining Elisha's artistic talents with Andreas' background in business, manufacturing and internet marketing was the perfect match of skills and experience.
Andreas spent much of their first year as a serious entrepreneur researching the custom & hand stamped jewelry industry; however, he continually ran into two major road-blocks: geographic constraints of being located in a small Southern market, and the restrictive and limited design options available via existing online jewelry makers.
As the fledgling entrepreneurs discussed different business strategies, they kept coming back to the concept of an online free-form design tool allowing users to layout and design custom jewelry without restrictions or limitations. As they talked, the idea for a revolutionary online jewelry design tool was beginning to form and their business model was solidifying.
At the end of 2011, after three years of research and development, Metal Pressions launched their ground-breaking online WYSIWIG (what you see is what you get) jewelry design platform. The software is user friendly, highly intuitive and provides each customer the ability to design, online, the exact piece of jewelry they envision in their own mind. With no limitations and no restrictions, the online jewelry design tool goes wherever the customers' imagination leads them.
After the customer designs their personalized piece, Elisha and Andreas faithfully recreate their vision in gold and/or silver. Every order is a handmade original and each character and symbol is created by individual craftsman's tools. While Metal Pressions standard line of jewelry and accessories includes gold necklaces, bracelets, pendants, charms, key chains, tie bars, money clips, cufflinks, their creations are limited only by the customers' imagination.
As word of Elisha's quality creations continues to spread, Andreas sees the launching of the new online design tool for designer personalized jewelry as a whole new chapter for the family business. MetalPressions.com has taken the time-honored trade of jewelry making and blended it with modern technology to offer an unprecedented shopping experience with amazing results.
Visit http://www.metalpressions.com/ojd.aspx and see what your imagination can create. Then let Metal Pressions do the rest.
Product/Service:
Custom jewelry design & creation. Using a one-of-a-kind free-form online tool, customers create designs for artisan Elisha Argentinis to bring to life. Unlike any online jewelry design service on the market today, Metal Pressions proprie¬tary software tool allows customers to design their exact visions. The custom piece then created by Elisha truly matches the customer's vision and is a unique handmade original work of art.
Launched: 2008
# Employees: 4
Market: International
Owners: Elisha & Andreas Argentinis
Contact Info: 800-554-8196
mpsupport(at)metalpressions(dot)com