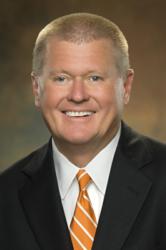 "Kent is a tremendous leader at Avenue Bank, having been one of the founders," Ron Samuels, CEO and Chairman, Avenue Bank.
Nashville, Tennessee (PRWEB) April 27, 2012
Kent Cleaver, a founding officer of Avenue Bank, has been promoted to President and Chief Operating Officer for the bank.
"Kent is a tremendous leader at Avenue Bank, having been one of the founders," Ronald L. Samuels, CEO and Chairman of the Board of Avenue Bank said. "A transition like this is common for a company that experiences the growth we have. When Avenue Bank began, we had a small number of people wearing a number of different hats.
"Five years later, with total assets of $667 million and 98 employees, now is the right time for us to operate in more defined leadership roles, and Kent is excellent for this. He has been a dedicated partner from day one."
Mr. Samuels continues as Chief Executive Officer, and Chairman of the Board. He will be leading the strategic planning and community direction for the bank, as well as advising on planning and development.
Mr. Cleaver will focus on business development for the bank, as well as oversee and manage the day to day operations. As President of the bank, he is now a member of the board of directors. He has served as Chief Operating Officer of Avenue Bank since its opening in July of 2007.
A native Nashvillian, Mr. Cleaver has 33 years of experience in banking, including retail and commercial, sales management, and operational management at a statewide level.
He is a graduate of Lipscomb University in Nashville and an active member of the Middle Tennessee community, currently serving on the Executive Committee for the Lipscomb University Business Leadership Council, and the Board of Visitors for the College of Business at Lipscomb. Mr. Cleaver has been an advocate for the Nashville Area Habitat of Humanity having served as Chairman, and Vice Chairman for the Board of Directors, as well as Chair of the Finance Committee, Treasurer, and Executive Committee.
About Avenue Bank
Avenue Bank opened in July, 2007, and aims to be Nashville's signature bank. Avenue Bank offers business and personal banking services through a team of professionals dedicated to serving the creative spirit of Nashville. The bank's name reflects the creative, entrepreneurial, friendly and boutique environment which clients immediately experience on arrival – including Avenue's unique "concierge service."
Avenue Bank has been recognized as a "top employer" by Business Tennessee and the Nashville Business Journal. Avenue Bank's headquarters office is in the historic Baggage Building at Union Station, with branches in Nashville and Franklin. For more information, visit http://www.thedifferenceisreal.com
Please note: Hi-res photos are available upon request.
Contact: Keel Hunt 615.321.3110