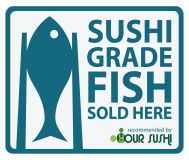 I strongly believe that in a few years, each fishmonger in the UK will be selling Sushi as well as fish
Bristol, UK (PRWEB UK) 28 April 2012
There is a grey area when it comes to the classification of Sushi Grade Fish, and when it comes to distinguishing between fish that is fit for raw consumption and fish that is not. So what exactly is Sushi Grade Fish?
The truth of the matter is that even in Japan, the home of sushi, there is no clear or decisive law regulating what is and what isn't Sushi Grade Fish.
The standards set for the sushi industry in Japan are governed by the experts of the trade, and rely solely on experience rather than enforced legislation to determine what is and what isn't fit for raw consumption - meaning that even for the Japanese, the pioneers of sushi, the answer isn't all that simple.
Over the last couple of years the popularity of Sushi in the UK & Europe has skyrocketed, with this exotic bite-sized Japanese delicacy hurling the British public into sushi induced mania.
Research has shown that sushi sales in the UK have increased by 21%, and that sushi is now outselling certain varieties of popular sandwich during the lunchtime rush.
With more and more people eating sushi and with an increase in the numbers of people trying to make sushi at home, there are thousands of unguided sushi lovers out there in search of somewhere where they can buy their Sushi Grade Fish.
The Sushi Grade Fish Campaign - set up by Your Sushi - is an online directory, listing fishmonger throughout the UK that sell Sushi Grade Fish. As part of the scheme, each fishmonger is provided with special "Sushi Grade Fish sold here" stickers to display in their shop window and on their fish counters. As well as identifying and listing the best local quality suppliers of Sushi Grade Fish, this will be helping fishmongers throughout the UK promote the quality of the fish that they sell.
Founder of Your Sushi, Manu Letellier says: "Not all fish is Sushi Grade Fish, so caution should be taken when purchasing fish for raw consumption. It is important to know exactly what you are buying and to put your trust in the hands of experienced fishmongers. If you want to know where your fish comes from, then you should have a passionate fishmonger who can tell you everything you need to know about the fish that you are buying."
The now launched Sushi Grade Fish Campaign aims to create a Sushi community where fishmongers and consumers can come together to exchange knowledge and information about the Sushi that they eat.
The online listing is available at http://www.YourSushi.co.uk.
"I strongly believe that in a few years, each fishmonger in the UK will be selling sushi as well as fish in order to allow their customers to sample their products and to also develop their business of course!
We have see it with the butchers selling burgers on Saturday mornings and I am confident that it will be the same thing with fishmongers and sushi soon!
The fishmonger/sushi concept seems to work very well! At Your Sushi, what we are trying to do is to bring Sushi making into everyday cooking. Everyone who comes to our workshops goes home with the confidence that they can do it at home. It's fun, it's healthy and it's easy to do!" Chef Manu.
Notes for Editors::
The total Sushi market was worth £38.9m in the 52 weeks to July 12, 2008, up 21% on the previous year
The current market leader for sushi is Tesco, accounting for 46% of all Sushi volume sales
Social class ABC1 were responsible for nearly 75% of all Sushi sales while accounting for less than 60% of total fish sales
The 34-45 age group are responsible for a third of value sales and have a 14% greater share of the Sushi market than total fish because they have the developed palate and finances to support their desire