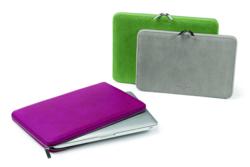 Apple is the most valuable company on Planet Earth, so there must be a lot of MacBooks in need of a leather home
Gloucestershire, UK (PRWEB UK) 30 April 2012
Apple is now the most valuable company in the world, having sold 67 million iPads worldwide. (Source: Bloomberg) How many of these 67 million, I wonder, are not encased in Italian leather?
Giorgio Fedon 1919, an Italian producer of leather goods, has recently launched a collection of leather cases specifically for these Apple products. Most recently, they have brought out a collection in Python Print leather. The leather is genuine, however, it is not real python skin for a few reasons. Firstly, there is the ethical issue of exotic skins, and secondly, the cost would be astronomical.
As new markets open up for Apple's products, most notably China and Asia, demand for MacBook, iPad and iPhone accessories will no doubt increase.
As a growing internet retailer of luxury leather goods,Luxury Artisan aims to provide the consumer with a wide range of quality leather technology accessories. They are constantly on the look out for quality niche leather brands.
About Luxury Artisan:

Luxury Artisan is an internet retailer of luxurious Italian leather goods
All products are handmade in Italy from the finest quality leathers and materials
Since launch in 2011, Luxury Artisan has supplied quality leather goods to customers worldwide
More brands coming Summer 2012
Follow Luxury Artisan:
Facebook: LuxuryArtisan
Twitter: @LuxuryArtisan