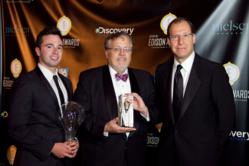 "Telcare's wireless-enabled blood glucose monitor has the capability to transform the lives of 28 million Americans with diabetes."
New York, NY (PRWEB) April 27, 2012
Telcare's wireless enabled blood glucose monitoring system received the 2012 Gold Edison Award for the best new medical and science online tool and app. Today marks the 25th annual Edison Awards competition, which honors the year's most innovative products, services and business leaders in the world.
Telcare's FDA-cleared device, introduced in February 2012, wirelessly communicates critical information to diabetes patients, doctors, caregivers and iPhones. It's the first blood glucose monitor that uses cellular communication to instantly transmit a patient's readings to a private online database, which can be accessed by the patient or – with permission – by a doctor, caregiver or family member. It tracks results and can spot potential problems and transmits real-time feedback.
"It's a great honor for Telcare to receive Edison's top award for innovation," said Telcare CEO Dr. Jonathan Javitt. "Edison searches for the latest cutting-edge devices and we believe Telcare's wireless-enabled blood glucose monitor has the capability to transform the lives of 28 million Americans with diabetes."
Telcare's blood glucose monitoring system includes Diabetes Pal, currently the highest rated diabetes smartphone app. Diabetes Pal works seamlessly with the Telcare meter to enable family members of people with diabetes to view results in real time and to provide Telcare meter users a diabetes-focused social networking experience. Telcare has chosen to distribute Diabetes Pal at no charge via the Apple iTunes store (and soon via the Google app store) so that people may use it even without purchasing the Telcare system.
"By incorporating wireless communication, social networking, and best practices in health IT, Telcare has brought the monitoring of diabetes into the 21st century for 28 million Americans, their caregivers, and their loved ones," Dr. Javitt added.
Each year the Edison Awards recognize the world's most significant innovations. Past winners include Apple for the iPad, Amazon for the Kindle II, and Nintendo for WiiFit. Once again, the 2012 awards drew a group of competitors.
"The Telcare Blood Glucose Monitoring System is an excellent example of an innovative product that reflects the rich tradition of the Edison Awards," said Thomas Stat, Chairman of the Edison Awards Steering Committee. "By awarding Telcare with the Edison Gold Medal, we have recognized this wireless system as a significant step forward for 28 million diabetics in this country as they pursue healthier, more meaningful lives."
Telcare was also recently named to Gartner's list of "Cool Vendors." Gartner's analysts praised Telcare's system for "getting the technology right" and providing "effective solutions" for diabetes care." According to Gartner, "This is the same technology that made Kindle the book reader that grandma loves."
About Telcare
Telcare, Inc. uses cellular technology and social networking to bridge the last mile between patients with diabetes, their caregivers, and their families in order to transform the care of chronic illness. Telcare has been awarded First Place prizes in the categories of Health, Wellness and Fitness Application and Health Enterprise Solution by CTIA, been named the MEDTEC startup of the year, and been named one of the top 12 products of 2012 by the Edison Awards. In addition to directly reducing cost of care by improving outcomes and preventing complications, Telcare creates an ecosystem of care that enables people with diabetes to better care for their condition. For more information, visit http://www.telcare.com.
About the Edison Awards and Edison Universe
The Edison Awards were established in 1987 to honor and advance Thomas Edison's wideranging contributions to technology and consumer products, as well as to inspire continued innovation in the world. In addition to the Edison Achievement Award, the organization also recognizes new product and service innovations through its annual Edison Awards and Edison Green Awards and, through its non-profit organization, Edison Universe, supports future innovators and fosters future innovation. For more information, visit http://www.edisonawards.com.