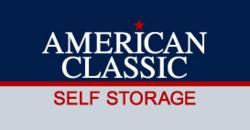 Real live data paints a nice picture about what is going on in that zip code, then we can react by creating specials, doing more training, or adjusting other factors. -John Wharton
Virginia Beach, VA (PRWEB) April 29, 2012
Every morning American Classic marketing manager/district manager John Wharton drinks his coffee and logs in to the backend of American Classic's new website. In the last 23 days, the Virginia-based self storage company has had 1,200 unique visitors, and Wharton sends updates to his managers every morning to show how the site is working for them.
What was once an outdated and "busy" website that lacked the ability to accurately track leads is now the complete opposite thanks to American Classic's partnership with WebWorks. WebWorks is a service that provides website design, development, content management tools, SEO services and web marketing consulting on an ongoing basis to self storage facility operators.
"We are seeing improvement with manager response time, and managers understanding the whole sales and marketing cycle, from a customer researching a storage unit, reserving it, renting it, and becoming a customer," Wharton said. "The process is important. The more we can learn about our customers and the process in how they find us, the better American Classic can take care of them."
WebWorks is a product of Red Nova Labs, the same company that started StorageFront, a self storage web marketing site that helps small-to-medium sized operators be found online. It was important to Wharton and district manager Michael Monteith that they work with a web development company that specialized in self storage.
"The WebWorks guys talked our language," Wharton said.
Before initiating the partnership, American Classic was in the process of converting its 11 facilities to Site Link, which gave customers the ability to rent storage units online and pay their bills online. WebWorks supported Site Link. Wharton was also creating Facebook, Twitter and email signature lines for American Classic's facilities, and WebWorks also supported those platforms.
The main selling point for Wharton, however, was the ability to view the analytics dashboard and change his marketing tactics based on the results. The WebWorks backend tracks the number of unique visitors, as well as where traffic is coming from. Wharton can also see in real-time the number of phone calls to each facility, the number of coupons printed, reservations made and any inquiries.
"Real live data paints a nice picture about what is going on in that zip code, then we can react by creating specials, doing more training, or adjusting other factors," Wharton said.
On the front end, the WebWorks design team made the site easy to navigate and built a user-interface design that points customers to a call-to-action. Wharton and his managers were involved in the design process, making suggestions that they knew would benefit their customers.
"John wanted to involve his managers because of their experience in the business and rightfully so," said Bobby Curiel, WebWorks' Account Strategist. "Their feedback was extremely valuable in building a site that fit them. You don't always get that where everyone from the execs to the facility managers are as involved and eager to learn about how to best utilize the platform."
American Classic has quickly come up with creative ways to pull in new Virginia Beach self storage customers and customers in their other six Virginia cities, which include Fredericksburg, Williamsburg, Newport News, Chesapeake, Portsmouth and Hampton. The American Classic managers are running move-in contests and plan to post pictures and results to their website.
From manager involvement to the trackable results, everything has come together just like Wharton anticipated.
"Red Nova Labs and WebWorks have given us a tool," Wharton said. "This tool when used properly is amazing. My job is to learn how to use this tool, and train others so they can be proficient. WebWorks will enable us to track our customers, and find out where they are coming from, why they choose us, and how they find us. I anticipate all of our managers becoming more engaged in their positions, and understanding the whole sales and marketing process."