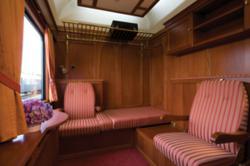 The Danube Express combines luxury rail travel with fascinating off-train excursions at an affordable price in parts of Europe that are less-visited.
Chippenham, Wiltshire (PRWEB) April 29, 2012
The Luxury Train Club, the concierge for quality rail travel, has listed the Danube Express for the first time, following the announcement of routes in central and south-eastern Europe.
The journeys selected by the Luxury Train Club include:

The Balkan Voyager, Istanbul to Budapest, via Turkey, Bulgaria, Serbia & Hungary, a romantic and evocative 3-day journey in retro luxury, only one departure, 3rd June 2012;
The Transylvanian, Budapest to Istanbul, via Lajosmize, Kecskemet, Sighişoara, Braşov, Veliko Turnovo, Kazanlak, or vice versa. A 4-day journey from the Danube to the Bosphorus, with stunning scenery and ancient architecture of Transylvania and rural Bulgaria en route, various dates in Summer 2012;
The Central European Tour, Budapest, Keszthely, Vienna, Bratislava, Cracow, Prague. Four days and 1,000 miles from Hungary, via Austria, Slovakia, Poland and ending in the Czech Republic. The Luxury Train Club is now taking bookings for this limited edition 2013 tour with just 4 summer departures.
The Danube Express is a private charter train with a total capacity of only 50 passengers, which allows a high degree of personal service.
The Danube Express has deluxe suites with attached shower / washbasin / toilet, as well as two lower level beds, a safe, air-conditioning and adjustable lighting. A steward is on hand to bring drinks, morning tea or coffee to the cabin at any time.
The onboard kitchens create freshly-prepared meals using traditional menus. Diners are served by uniformed stewards at a single sitting in the elegant Restaurant Car. During dinner, cabins are transformed from their daytime configuration of sofas into a cosy sleeping arrangement. The Lounge, with its wood-panelled walls, sofas and piano, is a place to relax and enjoy a drink.
Subject to availability, the Luxury Train Club can arrange the hire of an entire carriage with 5 suites for a private party of up to 10 passengers.
Fay Lejeune of The Luxury Train Club says, "The Danube Express combines luxury rail travel with fascinating off-train excursions in parts of Europe that are less-visited at an affordable price."
The Luxury Train Club features 16 of the world's most luxurious trains that together travel in 20 countries. The Luxury Train Club is part of Train Chartering, which has provided charter trains, private carriages and special rail travel since 1998 to corporate and individual clients as well as group travel organisers.
Further Information
The Train Chartering Company Ltd
Simon Pielow, +44 (0) 1249 890 176, simon(at)trainchartering(dot)com
For Editors:
Notes for editors
1. Email for press briefing notes: infoATtrainchartering.com
2. Photos of the Danube Express _title_ the Danube Express
3. http://www.trainchartering.com [Train Chartering supplies private charter trains and carriages. Other related services include: