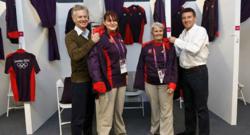 It's a proud moment to be here alongside our fantastic Games Makers picking up our Games uniforms and accreditation. The Games are almost upon us and our Games Makers will be front and centre of the welcome we give the world
(PRWEB) April 27, 2012
LOCOG Chair Seb Coe and LOCOG Chief Executive Paul Deighton today officially launched the London 2012 Uniform Distribution and Accreditation Centre (UDAC) in east London, and were amongst the first to collect their Games time uniform with Games Makers.

Photos from the launch are available here from 1pm
Footage will be available from footage(at)london2012(dot)com from 3:30pm
The UDAC is the first fully operational London 2012 Games time venue to open. It will be the main base for accreditation and uniform distribution for up to 70,000 Games Makers who will volunteer at London 2012, along with up paid staff and contractors. The centre will also supply uniforms to LOCOG staff, Technical Officials and eligible contractors.
The UDAC can process around 280 people an hour for uniform collection and up to 800 an hour for accreditation only. Additional uniform distribution centres will open in Weymouth and Portland, Manchester, Cardiff, Newcastle, Glasgow and Coventry for Games Makers and staff working at 2012 Games venues outside of London.
All those picking up their uniform will go through several stages in the UDAC including documentation check, photos, picking up accreditation, uniform check-in area, fitting area, collection area and check-out area.
UDAC is equipped with 70 fitting rooms and a staff of 525 people (343 of whom are volunteers).
Uniforms for LOCOG staff, Games Makers, Technical Officials and eligible contractors are collectively made up of

765.92 miles of fabric
359.37 miles of thread
730,610 buttons
1,069,034 zips
LOCOG Chair Seb Coe said "It's a proud moment to be here alongside our fantastic Games Makers picking up our Games uniforms and accreditation. The Games are almost upon us and our Games Makers will be front and centre of the welcome we give the world."
The Games Maker uniform was designed by LOCOG in association with London 2012's official sportswear provider adidas. The Technical Official uniform was designed by LOCOG in association with British retailer and London 2012's official clothing and homeware supplier Next.
Worldwide Olympic Partner McDonald's is the Presenting Partner of the Games Maker volunteer programme. McDonald's has used its nationwide presence to help attract candidates for the diverse team that will be needed to make the London 2012 Games a success. The LOCOG Volunteer team held training sessions for many of the volunteers conducting interviews at the world-class training facilities at McDonald's head office in East Finchley, London and the restaurant chain will also be helping to facilitate the training of the volunteers in the run up to Games time.
Cadbury is an Official Supporter of the London 2012 Games Maker programme and will help LOCOG build great Games Maker teams through fun and friendly game play delivered by programmes such as the Spots v Stripes campaign.
For more information visit the website at http://www.london2012.com.
Notes to editors:
Games Maker timeline
April 2012: Distribution of uniforms and accreditation passes begin
June 2012: Venue Training begins.
UK Border Agency
The UK Border Agency (UKBA), which is supporting the accreditation process as part of the venue team, will help accredit around 300,000 people in total between today and the start of the Games.
McDonald's is the Presenting Partner of the volunteering programme, providing its expertise and experience to help attract, select and train the London 2012 volunteers. The organisation currently employees 87,500 people across the UK and each year invests over £36million in training this workforce. McDonald's has awarded almost 35,000 nationally-recognised qualifications to employees and is one of the UK's largest apprenticeship providers. In 2005 McDonald's became the first large employer to achieve the Investor in People Profile status and in 2009 achieved GOLD status.
Cadbury's association with the 2012 Olympic and Paralympic Games as Official Treat Provider to the 2012 Games will be the biggest programme ever undertaken in Cadbury's history – underpinning commercial, marketing, merchandising and employee engagement up to London 2012 and beyond.
To celebrate its support of London 2012, Cadbury has launched Spots v Stripes, an ambitious and exciting campaign that aims to get people of all ages and walks of life to play games again.
Atos Origin - The Games Maker volunteer portal has been designed and built by Atos Origin - Worldwide IT Partner for the Olympic Games through to 2016. In the run up to the London 2012 Games, the portal developed by Atos Origin will enable London 2012 to recruit up to 70,000 volunteers. The portal will be the main channel of communication between the Games Maker volunteers and the London 2012 Organising Committee.
McCann - The Games Maker idea was created by McCann Worldgroup, the official Marketing Services Provider for the London 2012 Olympic and Paralympic Games. They were also responsible for developing and executing the fully integrated advertising campaign to attract applicants in 2010.
London 2012 Games partners:
The Worldwide Olympic Partners who support the London 2012 Olympic Games and the National Olympic Committees around the world are Coca-Cola, Acer, Atos, Dow, GE, McDonald's, Omega, Panasonic, Procter and Gamble, Samsung and Visa.
LOCOG has seven domestic Tier One Partners - adidas, BMW, BP, British Airways, BT, EDF and Lloyds TSB. There are seven domestic Tier Two Supporters – Adecco, ArcelorMittal, Cadbury, Cisco, Deloitte, Thomas Cook and UPS. There are now twenty-eight domestic Tier Three Suppliers and Providers – Aggreko, Airwave, Atkins, Boston Consulting Group, CBS Outdoor, Crystal CG, Eurostar, Freshfields Bruckhaus Deringer LLP, G4S, GSK, Gymnova, Heathrow Airport, Heineken UK, Holiday Inn, John Lewis, McCann Worldgroup, Mondo, NATURE VALLEY, Next, Nielsen, Populous, Rapiscan Systems, Rio Tinto, Technogym, Thames Water, Ticketmaster, Trebor and Westfield.
There is one domestic Tier One Paralympic Games-only Partner, Sainsbury's and two domestic Tier Three Paralympic Games-only Suppliers, Otto Bock and Panasonic. The London 2012 Paralympic Games also acknowledges the support of the National Lottery.