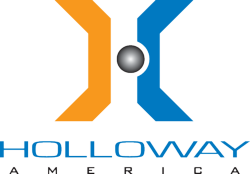 For INTERPHEX 2012, we're bringing our portable pressure vessel, customized with a cutaway that reveals a wide range of new vessel design technology.
Springfield, MO (PRWEB) April 27, 2012
HOLLOWAY AMERICA announced it will have an exhibit at the INTERPHEX 2012 pharmaceutical and biopharmaceutical trade show in New York, NY next week. The company will display its capabilities in custom fabrication of pressure vessels and related services. Sales Engineer Evelyn Gayer noted that HOLLOWAY representatives are "looking forward to the show, and we have some impressive things planned for INTERPHEX this year. For example, we've completely customized a pressure vessel to let people see our dimple heat transfer surface at work."
HOLLOWAY will showcase its tanks and pressure vessels at INTERPHEX 2012 booth #3646 from Tuesday, May 1 through Thursday May 3. The fabrication company will join more than 650 suppliers of innovative products at the Javits Center in New York City for INTERPHEX 2012. The annual trade show is one of the largest, most popular exhibitions for the pharmaceutical and biopharmaceutical industries, and many key decision makers will be on hand.
Attendees may be particularly interested in seeing HOLLOWAY's custom-fabricated, portable pressure vessel. Crafted from pharmaceutical stainless steel, the vessel features an electropolished interior and a cutaway that reveals HOLLOWAY's renowned heat transfer surface. HOLLOWAY will also display its custom tank components including the H-CONNECT™, for faster pipe and flange connection, and the H-CONNECT™ converter.
Gayer stated that HOLLOWAY's component capabilities can also fill a void for pharmaceutical and biotechnology professionals who need a source for original Precision Stainless, Inc. tank components and replacement parts. "Because HOLLOWAY was founded by the leaders who made Precision Stainless so respected," she stated, "we had access to those original parts, and we acquired all the components we need to equip the familiar faces we served during our Precision Stainless days."
A new addition to the HOLLOWAY booth at INTERPHEX this year, they will display compelling First-Person™ training videos (pioneered by Noble & Associates, a midwest advertising and marketing firm) that teach viewers how to use specific pressure vessels and components as well as how to perform certain functions with various pieces of equipment. HOLLOWAY President Pat McKee discussed the First-Person™ video series, saying, "We partnered with Noble & Associates to create training videos that have excellent production value, letting us show our colleagues in the biotech and pharma industries what a tremendous impact carefully crafted HOLLOWAY pressure vessels & components can have on their production processes."
Throughout the INTERPHEX 2012 conference, HOLLOWAY representatives will also be available to discuss their custom machining capabilities and YOURSITE™ Field Services, which include on-site fabrication and retrofitting as well as their 24/7 TURBOSERVE™ program for emergency repairs. As an added bonus, HOLLOWAY will hold a drawing for an iPad2 on both Tuesday and Wednesday. The drawings will be held at 4 p.m. each afternoon, and the winning entry will be awarded one 16-GB iPad2 (if present at booth #3646 at the time of the drawing).
For more information on custom-fabricated tanks and pressure vessels or services, or on INTERPHEX 2012, contact HOLLOWAY AMERICA at 417.863.0077 or by email at info(at)HollowayAmerica(dot)com.