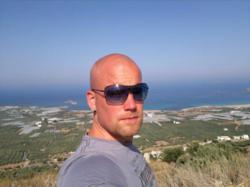 I'm very lucky to be a winner. I'm not a rich man
New York, NY (PRWEB) April 30, 2012
Johan Wallen and his wife will receive two blessings in May. The first is the birth of their second child due May 11th. The second is a prize check from FreeLotto.com, an online lotto style sweepstakes where Wallen recently won a $100,000.00 jackpot prize. May looks to be a very exciting month for the Wallen family.
Johan Wallen, a car mechanic in his homeland of Sweden, discovered the sweepstakes website in October of 2008 while surfing the web. Wallen quickly decided to take advantage of an optional service offered on the website called the FreeLotto Automatic Subscription Ticket (F.A.S.T.) which automatically plays the numbers he selected in 6 drawings every day for a small monthly fee.
"I'm very lucky to be a winner. I'm not a rich man," Wallen told the prize team at FreeLotto when they called to congratulate him on his big win. When he received the win notification in his email inbox, Wallen screamed with joy and immediately called his family, friends, and coworkers to share the incredible news. Many of his friends have joined the website since then in hopes of winning a prize themselves. Wallen plans to use the $100,000.00 prize winnings to buy a boat and support his expanding family.
About FreeLotto.com®
FreeLotto® is the largest online lottery-style sweepstakes website. Since 1999, FreeLotto® has awarded over $96 million in cash and prizes. FreeLotto® offers players the chance to win cash everyday with the following games: FreeLotto® $1 Million Cash Classic, $10K Fast Cash, $100K Pay Off Your Mortgage, $50K Win A Car, $100K Giveaway and $10 Million FreeLotto® Superbucks. To participate in FreeLotto®, players log onto http://www.FreeLotto.com, select their numbers on a gameboard and then click an advertising banner or answer a question to submit their bet for free.