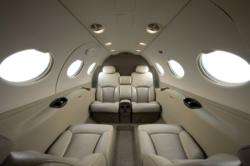 The Citation is a fantastic plane and we are looking forward to its introduction
London, UK (PRWEB) April 29, 2012
As part of their moves to modernise and expand their fleet of aircraft Private Jet Central are pleased to announce their latest addition a Citation Mustang light jet. The Mustang is expected to enter service in late May or early June 2012. It will be used for domestic flights in the UK and short haul flights to a number of destinations around Europe.
The Citation Mustang has a maximum range of 1,150 nm and can carry four passengers and a crew of two at speeds of up to 340 knots and a cruising altitude of 41,000ft. The interior is configured in a club seating arrangement to maximise the space available. All of the amenities one would expect from a jet manufactured by Cessna are there including fully reclinable leather seating, multi-media functionality and ample storage facilities in the cabin and also in the nose and tail cone baggage compartments.
Andrew Hudson at Private Jet Central has said "The Citation is a fantastic plane and we are looking forward to its introduction".
Pleasure and business users who want to fly private jet from London to Nice can book flights quickly and easily on the Private Jet Central website. Frequent flyers can now benefit from the I-Jet Card which offers significant time and financial savings to Private Jet Central clients.
About Private Jet Central
Private Jet Central is a global jet charter company with offices in the United Kingdom, United States and the Middle East. Established in 2001 they offer a range of jet charter services to business and pleasure users in the UK and Europe. As well as jet charters Private Jet Central offer a range of aircraft management services. More information on the full range of services offered by Private Jet Central is available from their website at http://www.privatejetcentral.com/ and also by contacting any of their offices by phone or via e-mail.