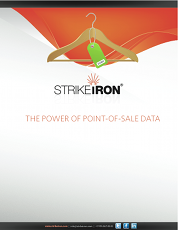 Cary, NC (PRWEB) April 29, 2012
Point-of-sale data collection drives customer relationships, according to a new whitepaper from StrikeIron. Implementing a retail data capture strategy enables e-receipts, email marketing, loyalty programs, and customer satisfaction surveys and reviews.
Collecting customer information at point-of-sale opens a new set of opportunities to better serve your customer base, resulting in increased customer satisfaction, visits, and revenue. StrikeIron's whitepaper "The Power of Point-of-Sale Data" explains proven tips and tactics to mining POS customer data to gain a more holistic view of customers. It discusses how to enhance the customer data acquisition process to drive revenue and real results.
For a copy of the whitepaper, go to http://offers.strikeiron.com/pos-whitepaper/
About StrikeIron:
StrikeIron is the leader in Data-as-a-Service (DaaS), delivering data quality and communications solutions via our cloud platform IronCloud. We provide address verification, email verification, phone validation, phone append, SMS text messaging, and sales tax solutions to customers in a variety of markets. Our solutions are delivered as Web services that can be easily integrated into any application or system. Additionally, our solutions are pre-integrated into leading platforms like: Magento, Eloqua, Salesforce.com, Informatica, Oracle CRM On-Demand and more. Visit us on the web at http://www.strikeiron.com.