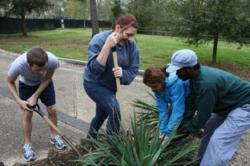 Hattiesburg, MS (PRWEB) April 27, 2012
The OCSL's mission of filling community needs with student volunteers was recently recognized through its addition to the 2012 President's Higher Education Community Service Honor Roll.
"This recognition shows that Southern Miss continues to be a national leader in civic engagement," says Josh Duplantis, who manages OCSL, on the recognition. "It represents the time and efforts of many faculty, staff, students and community partners that continually reach out to serve in our local, regional and global communities."
The Honor Roll, launched in 2006, annually highlights the role colleges and universities play in solving community problems and placing more students on a lifelong path of civic engagement.
Southern Miss undergraduate student Lindsey East, of Saucier, Miss., is one of many students who have been active in lending a hand in the community. "I think we should always feel that need to go and help," says East. "It's just a bigger feeling than doing something for ourselves."
Southern Miss' faculty and staff have also had significant involvement in service projects.
Altogether, members of the campus community provide approximately 51,000 hours of community service annually.
Some of the organizations OCSL serves and types of volunteer work it provides include:

Mentoring youth through Big Brothers Big Sisters
Building homes with Habitat for Humanity
Providing disaster relief through the American Red Cross
Leading food drives for The Salvation Army
For more information about the Office of Community Service Learning at Southern Miss, call 601-266-5074.
About The University of Southern Mississippi
The University of Southern Mississippi, founded in 1910, is a comprehensive doctoral and research-extensive university fulfilling its mission of being a leading university in engaging and empowering individuals to transform lives and communities. In a tradition of leadership for student development, Southern Miss is educating a 21st century work force providing intellectual capital, cultural enrichment and innovation to Mississippi and the world.
Southern Miss is located in Hattiesburg, Miss., with an additional campus and teaching and research sites on the Mississippi Gulf Coast; further information is found at http://www.usm.edu.