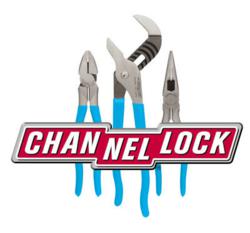 Elma, NY (PRWEB) April 30, 2012
The Made In America Store is known for bringing its customers USA made products that carry a higher standard of quality. Channellock brings a new level of quality by manufacturing tools with American steel. The trademark blue grips give the hand tools a distinctive look, a color the company has been using since 1956.
The Made In America Store stocks a full line of pliers including Tongue & Groove Set Pliers, Snap Ring Pliers, V-Jaw Pliers, End Cutters and many more styles of pliers. Channellock also brings Wire Cutters, Ratcheting Sets and their own Rescue Tool.
Consumers interested in viewing or purchasing the whole Channellock Line offered from the Made In America Store can visit our store location in Elma, New York or visit http://www.MadeInAmericaStore.com
Channellock's history dates all the way back to 1886 when a blacksmith from Evansburg, Pennsylvania, began hand-forging farrier's tools. George B. DeArment sold his tools by going from town to town with his wagon filled with everything he had made. Later, his business became known as Champion Bolt & Clipper Company and in 1904, George moved to 12,000 square foot facility in Meadville, Pennsylvania. With the expansion, the business started creating nippers, pinchers and open-end wrenches. In 1911, George went into a partnership with his two sons, Almon W. and J. Howard DeArment and expanded its product line to include hammers.
In 1923, the company started to outgrow their location and decided to move to a bigger facility, (33,000 square foot) which is where the present day Channellock facility is today. Four years later, in 1927, the company changed their name to Champion-DeArment Tool Company.
The title Channellock didn't come until 1933 when Chief Engineer Howard Manning developed the tongue-and-groove, slip-joint set of pliers, the same pliers the company is known for today. The name 'Channellock' was used more for a style of tool at the time.
The Champion-DeArment Tool Company finally changed their name to Channellock in 1963 when people started to associate the DeArment name with "Channellock."
Channellock starts with a billet of high-carbon North American 1080 steel and with over 120 years of refining their methods, have created a stronger, more durable tool. The steel is then forged to take shape with air-powered die forgers. After being forged, each tool component is precisely ground, drilled, counter-bored, channeled, broached and polished to strict tolerances. Channellock then sends the unpredictable steel into a very controlled, uniform tempering system. The hand tools are then sent through a laser hardening system to further make the steel teeth and jaws more durable. Channellock then adds their renowned PermaLock fastener, which eliminates problems from traditional nut and bolt fasteners. The final step of the manufacturing procedure at Channellock is adding a rust-inhibitive solution and given a blue PVC coating that is baked onto the handles.
Consumers can visit http://www.MadeInAmericaStore.com to their full line of 100% American made hardware and tools, along with more USA made products,
The Made In America Store is located at 900 Maple Road in Elma, New York and is committed to selling 100% American manufactured products. You can visit http://www.MadeInAmericaStore.com for more information or shop our catalog of over 290 vendors that are devoted to producing USA made products. All US military personnel both active duty and retired receive a discount every day. Consumers can also keep up to date news articles, events, photos and contests with Facebook, Twitter, Google+, Pinterest and Tumblr!