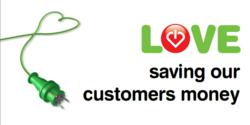 Save money on business electricity
(PRWEB UK) 30 April 2012
Times are hard and every business is feeling the pinch on their wallets. Save money on business gas and business electricity bills by comparing the energy market with Love Energy Savings. Savings can be made throughout a business leaving it more profitable in the long run. Its essential business owners take action now and save where they can protect their businesses financially during these rough times
Rolling over? Want to save money? Want to pay less? Don't suffer for any reason. Don't get caught in a costly rolling contract.
Love Energy Savings in Bolton, Greater Manchester specialize in finding the best deal for the customers money when it comes to business energy. Love energy Savings compare electricity prices and endeavor to get all customers cheap gas and cheap electricity.
Historically small businesses have struggled with knowing when to cease their contracts with their energy supplier leading to higher bills. Many businesses have been rolled on to higher energy contracts for 2 to 4 years. Every client that switches there electric and gas bills with Love Energy Savings saves money.
Facts every business should know and things every business man should do:

Nearly all roll over contracts have higher prices than the first year contract.
70% of businesses roll over into high price contracts and spend more money than they need to.
Store and keep the original contract. Check the terms and conditions on the contract. Be sure to make a note of the termination period in your contract.
Serve the termination and search for a better tariff.
There is nearly always a better tariff for your business.
It is easy to switch and hassle free. Energy Brokers are free of charge.
Love Energy Savings have launched a campaign to help 2.2 million businesses across Britain save thousands of pounds.
Compare electricity prices and Save money now.
It takes individual hours to compare the market but it takes Love Energy Savings minutes.
Don't waste time when someone else can do it for free.
Love Energy Savings is one of the UK's largest utility providers offering businesses the opportunity to compare electricity prices and compare gas prices online. Love Energy Savings is a true Lancashire hero. The company offers a warm welcome and ensures its clients' money is well taken care of with good old-fashioned common sense.
Love Energy Savings help their clients save on business gas, electricity, phone and insurance. They have been doing that for countless customers nationwide, since 2007. They are experts in the field of saving their clients' money on business energy and run through the process from end to end with their clients, meaning that the transition is seamless and allow their clients to sit back, relax and let the professionals take care of their business energy switch.
In any business it's essential to look out for the best savings and the best offers in order to ensure your business is the most profitable. It's essential to check that the rates aren't cutting into the businesses hard earned money. Don't forget time is your money so don't waste it worrying over your contracts and trying to compare the market. Love energy Savings have advisors willing to help.
Gemma Bailey, Marketing and Relationship manager of Love Energy Savings said on the "Every Business should compare their electricity prices and aim to save money. Getting cheaper gas and cheap electricity couldn't be easier!"
Love Energy Savings clients trust them for fast, free and impartial advice on the best possible energy savings. Every client that switches there electric bill with Love energy Savings gets cheap gas and cheap electric and saves money on their business electricity
From Land's End to John O'Groats, Love Energy Savings know the lay of the land when it comes to utility suppliers. They know who's where, what's what, and when to make the best move to get their clients the biggest and best savings.
For more information on saving on electricity bills please speak to an advisor on 08000932791 or send your details at http://www.loveenergysavings.com