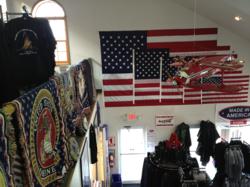 Elma, New York (PRWEB) April 29, 2012
Simply Home brings their high-quality woven throws and pillows to the Made In America Store, expanding their inventory of home style products. The Made In America Store sells candles, decorations and home maintenance tools in their Home & Living section and Simply Home will definitely complement the department.
Simply Home offers consumers military branch throws and pillows, all of which are high-quality woven and come competitively priced. Each branch is represented in the blankets and pillows and includes the Army, Navy, Air Force, Marines and the Coast Guard. The blankets are 50 inches wide and 70 inches long and can easily be folded to show the emblem of each military branch. Each pillow is about a foot and half long and wide and filled with 100% polyester. Every blanket and pillow comes in red, white and blue.
Consumers interested in a 100% American made blanket or pillow can visit http://www.MadeInAmericaStore.com or visit the store location in Elma, New York.
Simply Home has a history of partnership, hard work and accomplishment. Starting back in 1985, Tom Lovelace opened a small gift shop called Simply Country and it was close to Interstate 77 and 81 in Wytheville, Virginia. The location itself brought a lot of travelers and tourists, thus helping Tom with customer appreciation and retail experience.
In 1987, Harold Pennington, Sr. and Haskell Mallory started Weavetec, a commission based weaving operation in Spartanburg, South Carolina. Weavetec was one of the few lasting textile companies in the United States.
Both owners' lives crossed paths in 1990, when Lovelace was searching for a company that could handle a large demand in wholesale and retail for their consumers. A partnership was born and both companies expanded, creating a basis for expansion.
In 1992, both companies were doing so well that Weavetec had added two new facilities in South Carolina and in 1994 Weavetec outgrew their initial location and moved into a 45,000 square foot warehouse and distribution center.
However, in 1995, both companies began to experience a significant slowdown and in turn led Weavetec to purchase Simply Country. The new partnership allowed Weavetec to continue its work of manufacturing the USA made textile jobs while Simply Country could expand their line of products sold.
In January of 2002, Simply Country decided to change their name to Simply Home as their product line become more all-around home decorating items instead of the traditional 'country' focused store.
The Made in America Store is located at 900 Maple Road in Elma, New York and is committed to selling 100% American manufactured products. You can visit http://www.MadeInAmericaStore.com for more information or shop our catalog of over 290 vendors that are devoted to producing USA made products. All US military personnel both active duty and retired receive a discount every day. Consumers can also keep up to date news articles, events, photos and contests with Facebook, Twitter, Google+, Pinterest and Tumblr!