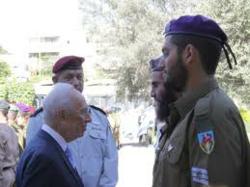 New York, NY (PRWEB) April 29, 2012
To enable Jews around the world to experience Israel's official Independence Day ceremony, the Office of Israel's President Shimon Peres and The Jewish Agency for Israel have—for the first time ever—uploaded event footage with English subtitles. The light-hearted but poignant ceremony, which took place earlier today at the President's Residence in Jerusalem, featured Israel's top leadership, including President Shimon Peres, Prime Minister Benjamin Netanyahu, Minister of Defense Ehud Barak and Chief of Staff, Maj. General Beni Ganz.
The footage can be viewed at http://www.facebook.com/JewishAgency and http://www.youtube.com/peres.
Following an honorary flyover of combat planes and helicopters and a military review by the President and Chief of Staff of the 120 recipients of the President's Outstanding Soldiers Award, the main performance will take place on the lawn of the President's Residence. During the ceremony, the president, the prime minister, the chief of staff and the defense minister serenaded the audience with their favorite Independence Day songs accompanied by top singers and military bands. The president and chief of staff will also give special Independence Day addresses during the Outstanding Soldier Award ceremony.
"Israel, home to few, small in area, lacking water and natural resources, and its people, who dwell alone, surprised all in becoming a model state for its defense ability, for its economic strength, for its science and its democratic character," President Peres told the audience. "Israel does not threaten others, does not seek to rule over another and does not seek to do evil to its neighbors.
"Israel is a strong country that prefers bridges of peace over fences of hostility. Today's Middle East is turbulent, filled with different threats not to be taken lightly but also not be feared. Israel today is stronger than ever. And able to defend itself, Israel has what it has. But also has a rare talent to regenerate, surprise, store capabilities and move forward creatively. We must be strong. And we aim to be right."
About the Jewish Agency for Israel
Investing in a vibrant Jewish future, The Jewish Agency for Israel continues to address the greatest challenges of our People in every generation. We connect the global Jewish family, bringing Jews to Israel- and Israel to Jews. We build a better society in Israel- and beyond- energizing young Israelis and their worldwide peers to rediscover a collective sense of Jewish purpose. At the same time, The Jewish Agency continues to be the Jewish world's first responder, prepared to rescue and bring Jews home to Israel from countries where they live at-risk. More information can be obtained at http://www.jewishagency.org