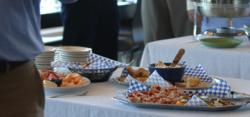 "Out-of-town guests, Illinois River boaters and the locals all find [Tracy's] Boat House to be a friendly, casual place where they can get some great, unique food ... "
Ottawa, Illinois (PRWEB) April 28, 2012
When it comes to creating a great waterfront dining experience, it's more than just the food on the table — it's about the ambience, the service, the location, and yes, of course, the food and drinks must be dynamite and tasty, too. And the top dining spots on the Illinois River have recently been found.
Along the Illinois River from Chicagoland to the St. Louis area there are several waterfront restaurant options. But what dining options really measure up and meet all of the requirements for a truly unique and spectacular waterfront dining experience?
Always keeping the customer in mind while providing an impressive waterfront dining experience — great food, ambience, service, location — here are the top five waterfront dining spots on the Illinois River.
5. Rhythm Kitchen Music Café — Peoria. Rhythm Kitchen Music Café sits on the Peoria Riverfront and opened in 1999 as part of the Riverfront's revitalization. Owner and chef, Shelley Lenzini, says on her website her love of music, home-cooked food and a casual setting influenced the design of the café, which has a warehouse appearance with eclectic décor. On Friday and Saturday nights the restaurant features live jazz and blues, and all of the food is prepared fresh daily in a display kitchen. Food options range from Portobello Pizzetta to California Dreamin' pizza to Tandoori.
4. Mel's Illinois Riverdock Restaurant— Hardin. Illinois Riverdock Restaurant is a growing hotspot in the scenery of Calhoun County not only for St. Louis area locals, but also for tourists. Those who frequent the home-cooking — with a twist — restaurant, say everyone should try the brisket at least once. The homemade pies, such as gooseberry, also stir some good food chatter.
3. River Beach Pub— Chillicothe. River Beach Pub offers a good time by the river with some good food — catfish fingers, maple salmon, burger-type affairs and more — to go along with it. With a view of the Illinois River, the pub offers a wide selection of draft and bottled beer and has a warm, knotty pine dining room and bar or a large deck outside by the river. Live Blues bands also play at the pub on certain nights.
2. Jonah's Seafood House — East Peoria. Jonah's, which opened in 1986, is known as the place with the "people that know fresh fish." When they opened the riverside restaurant, owners Terry and Pattie Waldschmidt had a vision for a dining experience where diners would know where their fish came from each day and how best to eat it. The seafood at Jonah's, which features flavours from Tampa, San Francisco, Boston and New Orleans, is flown in and received fresh each day, inspected for quality and then cut and weighed by hand.
1. Tracy's Boat House— Ottawa. The No. 1 waterfront dining experience on the Illinois River can be found at Tracy's Boat House in Ottawa, Ill. Located in resort community Heritage Harbor Ottawa, the casual dining Tracy's Boat House sits riverside with floor-to-ceiling windows overlooking the water and marina, primed for sunset views.
Owned and managed by Restaurateur Tracy Sellett, customers to Tracy's Boat House can enjoy views of the Illinois River inside the restaurant from comfortable seating or the horseshoe bar — all with great marina panoramic views. But guests also have the option to take in the fresh air on the restaurant's expansive deck and patio. The location, with its charming nautical theme, is perfect for any kind of evening, whether it's a romantic night out on the patio, a family meal or a fun night out with friends.
"Out-of-town guests, Illinois River boaters and the locals all find the Boat House to be a friendly, casual place where they can get some great, unique food, a cold drink, relax at the bar and catch up on a game or enjoy a romantic dinner on the water's edge," says Sellet.
The food and drink specials — which also have a fun, nautical theme— have loyal customers coming back for more. The menu offers a variety of options from handmade sandwiches and burgers, fresh salads and wraps to more creative culinary items, such as the "Baja Grilled Fish Tacos," which is Latin-rubbed grilled Mahi Mahi packed into a sweet corn tortilla, topped with crisp cabbage and spicy citrus crème pico de gallo. Other menu dishes include the "Antipasto Pocket," "Say Yes to Michigan! Salad," "Venice Beach Skinny Chicken," "Nantucket Crap Dip Yum!" and much more.
Anyone familiar with the Illinois River will also get a chuckle from the drink special list with options like Asian Carp, Looper's Libation, Dock Lizard, River Water and a cocktail named for every cast member of "Gilligan's Island." They taste terrific, too. And no meal is complete without a portion of the Boat House Famous Blackberry Cobbler.
Tracy's Boat House, 1970 N. 2753rd Road, Ottawa, IL, at Heritage Harbor Ottawa, is open seven days a week from 11 a.m. and the bar doesn't stop serving until it's empty. Tracy's Boat House, 815-434-0030, which will also open for parties of eight or more, takes reservations online.
Anyone looking for a recommendation from the person that knows Tracy's Boat House best, take it from Sellet herself. Sellet says while visiting her waterfront dining establishment at Heritage Harbor, the best dish to try is the Baja Mahi Fish Tacos. She says diners won't be disappointed.