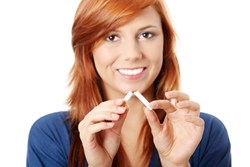 Assessing financial benefit can provide an ex-smoker with a sense of achievement when they are finding it particularly difficult to fight temptation.
London, UK (PRWEB UK) 28 April 2012
Giving up smoking isn't easy, in particular for those who have been smoking for a while, which is why euroClinix recognised the need for more interactive quit smoking tools to assist people in getting the highest benefit when they start giving up smoking. Many smokers find it beneficial if they have an understanding of the positive impact stopping smoking can on their health as well as those around them. This is why euroClinix has developed the interactive Smoking Side Effects page. This page is designed to give a visual illustration of how smoking affects different parts of the body. EuroClinix's smoking calculator, on the other hand, aims to keep people motivated by allowing them to get a concept of the financial benefits of quitting.
Smoking Side Effects page
Smoking doesn't just affect the lungs, but its effects can ultimately influence and damage the overall health of an individual. The Smoking Side Effects section on euroClinix can give an indication of how smoking affects parts of the body such as the brain, lungs, bones, muscles and heart, among others. By simply clicking on the appropriate area it allows one to view information on how smoking is threatening that part of the body. The section also includes information on how second-hand smoke influences those exposed to it. Ideally, this page is meant to help patients understand why it's so important to give up smoking for good.
Smoking calculator
The smoking calculator can provide an accurate indication of the amount of money a person is saving per day, per month and per year, if they were to stop smoking. Assessing financial benefit is often suggested by organisations offering quit smoking support and plans, as it can provide an ex-smoker with a sense of achievement when they are finding it particularly difficult to fight temptation. To act as additional motivation, a person may choose to direct these savings towards a holiday or other treat to act as an ultimate goal to work towards.
euroClinix Company Information
Launched in 2004, euroClinix is a trusted online clinic that provides information, treatment and support to patients across Europe for a number of different lifestyle and medical problems. They offer a secure and confidential way in which to order prescription medications online using a free online consultation that is verified by doctors. Every step of the ordering and delivery service at euroClinix is completely private and discreet.
For more details, visit the website or contact euroClinix on 020 7084 6782 or via email.