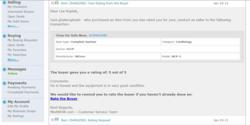 New York, NY (PRWEB) April 27, 2012
Having worked as an intermediary between hospitals, imaging centers and clinics in the field of cardiac MRI and CT's, a progressive hospital in Kentucky asked Infinity Medical, Lee Ropiak to sell their Enhanced External Counter pulsation device (EECP) last year. Because of Infinity Medical's past involvement in diagnostic imaging equipment specifically applied to cardiology, the group eagerly took on that task.
With help from a reputable website MedWOW ( http://www.medwow.com/ ), Infinity Medical soon found a few buyers. Eventually the group sold the unit to Dr. Raza Ghalamghash at the Gulf clinic in Dubai, UAE. It was a mutually rewarding transaction that taught participants a lesson in how to effectively transact business internationally.
Below, MedWOW caption reads:
Dear Lee Ropiak, Raza Ghalamghash who purchased an item from you has rated Infinity Medical's conduct as a seller in the following transaction: Complete System, Cardiology, EECP NiCore NCP-2. The buyer gave the company a rating of: 5 out of 5. Comments: ...Lee Ropiak was honest and the equipment is in very good condition... As much as the above recognition was indeed a complement, the lessons learned from this transaction were more valuable and here is why.
One specialist's "discredited" procedure is another specialist's best way to help patients. Enhanced External Counter pulsation (EECP) devices have largely given way to more invasive, expensive Catheterization and Angioplasty procedures. Consequently a wealth of experience, knowledge and equipment now stand on the sidelines unutilized. But, it doesn't have to be all or nothing. Though some criticism of EECP may be justified, there are clear benefits of this treatment, such as the one recently illustrated in the discussion forum http://www.ptca.org/forumtopics/topic_EECP.html at Angioplasty.Org.: "at 82. have had an 8 pt bypass 12 years ago following 3 failed stent procedures. had a 4th stent 3 years ago. failed in two weeks. couldn't walk across the street did 36 EECP treatments. Now back in the gym. wish to have started with EECP instead of catheterization and stents. bipjes, Pittsburgh, Pennsylvania, USA, March 3, 2012"
The business outcome: The hospital in Kentucky paid over $130,000 for the EECP equipment plus the cost of installation and annual service. The doctor there could not attract enough patients and three years later after trying to recoup at least some of the investment the hospital made, the best offer the hospital received was to pay someone to discard and remove the equipment. Infinity Medical bought the unit and paid the hospital a fair price for its equipment. The company also paid for removal, crating and shipping. The customer in Dubai saved money and received almost un-used equipment. Infinity Medical Equipment Services made a profit. Not hopeing to change trends or promote one treatment, but the group here feels that by reaching out to buyers and specialists in other countries, Infinity Medical at least helped to give old procedures a second chance.
Infinity Medical Equipment Services
http://www.infinitymed.com
New York, New York, April 27, 2012