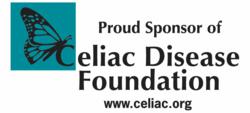 We look forward to sharing the news of our gluten free Grilled Fish with this community, and to talking with consumers about what they look for from a gluten free product.
Gloucester, Mass. (PRWEB) April 27, 2012
Gorton's Seafood is proud to support consumers nationwide who are following a gluten free diet by sponsoring the Celiac Disease Foundation and the CDF's Annual Education Conference and Food Faire, which will take place in Los Angeles, Saturday, April 28. Representatives of Gorton's will be at the event to share the news regarding its gluten free products with consumers, as well gather suggestions for additional ways the company can support those living a gluten free lifestyle. In addition to offering a delicious and nutritious meal option with their line of Grilled Fish products, Gorton's also offers gluten free recipes on its website to aid with gluten free meal-planning.
The Celiac Disease Foundation is a national non-profit organization dedicated to raising awareness of Celiac disease and building a supportive community for patients, families and healthcare professionals. The Annual Education Conference and Food Faire is an opportunity for this community to gather and share information about Celiac disease, gluten sensitivity and associated conditions, how family members are affected, dietary compliance and more.
"We're so excited for this event and for the opportunity to directly connect with gluten free consumers," said Erol Tan, Gorton's Marketing Manager. "We look forward to sharing the news of our gluten free Grilled Fish with this community, and to talking with consumers about what they look for from a gluten free product."
An estimated 1 in 133 people in the United States are living with celiac disease, a digestive disorder triggered by intolerance to gluten. Celiac disease is one of the most common genetic autoimmune conditions in the world and often goes undiagnosed. It is estimated that 95 percent of Americans with the disease do not know they have it. And while the absence of gluten in the diet of a person with Celiac disease alleviates uncomfortable symptoms, it is often difficult to find gluten free products that are satisfying and taste good.
Gorton's Grilled Fish is gluten free, with a variety of flavors and grilled fish species to choose from including Grilled Salmon, Grilled Tilapia, Grilled Fillets made from wild-caught Alaska Pollock, and Grilled Haddock. Each fillet is flame-grilled and expertly seasoned, with the same taste millions have come to know and love, but with the added assurance that they are gluten free. Procedures have been implemented at the production location to avoid cross-contamination, and there is ongoing monitoring and testing to ensure that their Grilled Fish is gluten free. With 100 calories or less and 3 grams of fat or less per serving, Gorton's line of gluten free Grilled Fish provides even more reason to eat seafood twice a week, as recommended by the USDA MyPlate guidelines.
Gorton's offers downloadable coupons at http://www.gortons.com and a free digital newsletter that provides monthly recipes and coupon offers. In addition, Gorton's Seafood is on Facebook and Twitter where consumers may connect with the brand in social media and be the first to hear about news, contest announcements and special promotions. In addition to the extensive recipe section on gortons.com, the Gorton's Goodness section of the website offers consumers more information about the health benefits of seafood, along with more tips for how to incorporate seafood into their diets on a regular basis.
For more information about Gorton's gluten free products, please visit http://www.gortons.com/glutenfree. For more information about the Celiac Disease Foundation, please visit http://www.celiac.org.
About Gorton's Seafood
Founded in 1849, Gorton's is one of America's oldest continuously operating companies. Headquartered in Gloucester, Massachusetts, Gorton's continues to be the innovative leader in the seafood industry. Gorton's full line of frozen seafood products includes Breaded and Battered Fish Sticks and Fillets, Grilled Fillets, including Tilapia and Salmon, Premium Fillets, Premium Shrimp, Flavored Fillets, Tenders, and Popcorn Shrimp. Gorton's products are available nationwide in better independent and chain grocery stores. Gorton's proudly stands behind its products with its "Trust the Fisherman Guarantee," which represents an unwavering commitment for over 160 years to providing the best-tasting, highest quality seafood meals. The Gorton's Fisherman, in his yellow slicker and rain hat, has become an icon symbolizing this commitment. For more information, please visit http://www.gortons.com or call 1-800-222-6846.
About Celiac Disease Foundation
Founded in 1990, Celiac Disease Foundation (CDF) represents the needs and concerns of the Celiac community and those yet to be diagnosed. CDF has built a community of patients, families, allied healthcare professionals and the food industry who continue to work together to improve the quality of life for people with Celiac disease and gluten sensitivity. CDF is a founding member of the American Celiac Disease Alliance (ACDA) and is actively involved with the National Institutes of Health (NIH), NIH Celiac Disease Awareness Program, National Digestive Diseases Information Clearinghouse and the Food & Drug Administration (FDA). http://www.celiac.org
###