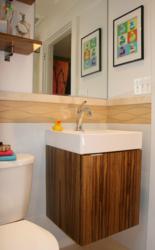 Tackling a challenge makes for creative design and innovative solutions. An exciting and satisfying mix!
Doylestown, PA (PRWEB) April 30, 2012
As any designer knows, when working in older homes unexpected challenges are bound to pop up. The small bathroom project for the Bucks County Designer House, however, required particularly creative solutions to realize the vision of Superior Woodcraft designer, Amanda Bertele, and Kelly DeLong, designer for Schlichter Tile & Marble Contractors.
The first "clue" that difficulties lay ahead – the door to the powder room only partially opened before hitting the toilet. "After squeezing through the half-open door, it was clear the room needed to be completely torn out," said Bertele. "Everything had to go, including the window and door casings." Only the octagonal tile floor was left intact, which was treated with an acid wash to remove years of grime revealing what looked like brand new tile. Meanwhile in the children's bathroom the designers were presented with another set of hurdles – mismatched tile and porcelain, plumbing protruding from the walls and unforgivingly petite dimensions at only 4½' wide.
Bertele and DeLong rolled up their sleeves. Through a collaborative work session, the team finalized their designs, locked-in their project plan and identified the extended team and artisans they would engage to best meet the demands. While Schlichter Tile & Marble Contractors gutted the children's bath in preparation for the new design, Limeworks applicator Randy Ruth took a multi-step approach to create a traditional Tadelakt finish using lime-based plaster in the powder room. With careful burnishing of the final layer with a polished stone, he created a subtly textured finish with a color reminiscent of antique buckskin.
Meanwhile, the craftsmen at Superior Woodcraft were building custom cabinetry. Bertele had designed a lightly distressed red oak vanity featuring tapered legs, drawers, a large open shelf with valance and a matching mirror for the powder room. For the kid's WC – where DeLong and Bertele envisioned a contemporary look, which could evolve as the children grew – a small, cantilevered cabinet of natural, sequence-matched Black Limba was fashioned. It was then that Weinstein Supply in Allentown, who in addition to providing and installing the perfect toilets and faucets for both spaces, came to the rescue with a 4½ foot bathtub for the tiny bathroom. With standard tubs at 5 feet, this saved the day.
DeLong and her home team at Schlichter then set about installing the tile and counter tops. Echoing the pattern on the original floor in the powder room, American Firebrand provided hand-made diamond shaped tiles in 3 glaze colors which were arranged to create a classic, geometric effect. DeLong produced tone-on-tone elegance in the children's bathroom with a natural limestone floor, large 12 x 24 tiles in "Chalk" from Tile Gallery on the walls, and a border of unique, hand-made, caramel colored tiles from American Firebrand, which feature a curve pattern – creating a subtle wave.
With construction near completion and fixtures in place, the staging began. Sculptures from local artist Justin Long, original pastels by Susan Williamson, paintings by Kary Coke, and a handcrafted mirror framed in reclaimed roofing shims by Melissa Ross were hung on the walls. Also featured, and bringing whimsy and color to the children's bath, tub toys from Foster's Toys and Party Center.
And what did Bertele and DeLong do about the toilet that doubled as a doorstop? Using flat track hardware mounted on a large header, they hung a gliding "barn style" door featuring wrought iron details and antique pulls from Architectural Antiques in Bedminster to create an elegant and tasteful egress to this newly revitalized space.
Tour the Bucks County Design House and Garden at Spring Valley Farm, Furlong, PA. May 6 – June 3, 2012
About Superior Woodcraft
Founded in 1967, Superior Woodcraft builds handcrafted, custom cabinetry for the entire home with a commitment to preserving the time-honored skills, traditions and integrity of old-world cabinetmaking.