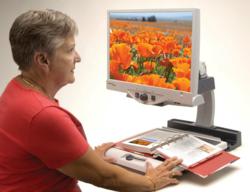 My Merlin HD allowed me to view photos of my granddaughter for the first time. The colors are so bright and I can even see she has her father's blue eyes!
– Caroline Huff
Huntington Beach, CA (PRWEB) April 29, 2012
Enhanced Vision, America's leading manufacturer of magnifying solutions for the visually impaired, launched a powerful new high definition desktop electronic magnifier today that can bring affordable independence to the 15 Million+ Americans suffering from low vision conditions such as macular degeneration. The new affordable Merlin HD offers high definition color and contrast, resulting in a beautiful crystal clear picture with vibrant colors. See for yourself what makes Merlin HD the greatest value and best picture quality available in desktop magnification.
The Merlin HD features:
o HD camera
o High resolution HD LCD for best image quality
o Simple, easy-to-use tactile controls
o Adjustable viewing modes allow you to personalize Merlin HD
o LED lighting for truer picture and color
o 22" and 24" LCD sizes
o Screen easily pivots horizontally and vertically to provide the most comfortable viewing position
o Ships in one box and unpacks easily; just plug in and begin
o Three year warranty
o Designed and assembled in the USA
Currently, more than 15 million people in the United States are diagnosed with low vision conditions, such as Macular Degeneration which makes everyday activities like reading, writing, and working on hobbies a real challenge. And with America's aging population, this number is expected to double by 2020. Leading eye care specialists have discovered that video magnification is a solution for these individuals to regain and maintain their independence.
"It gives us great pleasure to introduce our truly affordable Merlin HD at the same price as our Merlin LCD," said Barron Javaheri, President at Enhanced Vision. "Merlin HD's camera technology produces an even truer, more natural image. Easily read books and magazines, read and write letters, manage your financial records, view color photos, do crossword puzzles and even pursue a favorite hobby. And at a price that's hundreds of dollars less than competing products, it's the ideal solution at this challenging time."
For more information about Enhanced Vision and its products, please call
(888) 811-3161 or visit http://www.enhancedvision.com.
About Enhanced Vision
Enhanced Vision is the leading developer of innovative products designed specifically for people who are legally blind and have macular degeneration and other low-vision conditions. The company offers the most comprehensive line of electronic magnifying solutions and has helped thousands of people regain their visual independence by providing the ability to read, write, watch TV, enjoy a play and live again. Headquartered in Huntington Beach, Calif., Enhanced Vision products are available in more than 70 countries worldwide. For more information, please call (888) 811-3161 or visit http://www.enhancedvision.com.