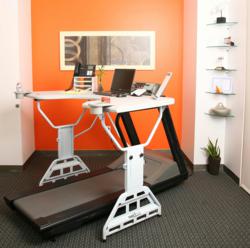 Woman Loses 150 lbs by Walking at Work.
Charlotte, NC (PRWEB) April 28, 2012
Dion Lim of NBC News affiliate WCNC has a knack for recognizing significant stories before they become mainstream in the media. This week Dion uncovered a truly unique weight loss/charity story involving a TrekDesk treadmill desk user in a piece titled 'The Walk of Her Life: Woman Loses 150 lbs by Walking at Work'. The video and story may be viewed here in its entirety: http://bit.ly/IJJ9rX
Dee Rubina, of FiltersFast.com in Monroe, NC has never let a challenge stand in her way. During her personal quest to walk away from 150 lbs of excess weight she learned that poor women worldwide walk an average of 5 miles each day just to obtain water for their families. Often the water is not suitable for drinking leading to a world-wide tragedy that takes the lives of 3 children every 60 seconds.
Dee took her resolve, knowledge, passion and initiative one step further than most when she decided there must be a way that the steps she was taking to lose weight could benefit this plight. That single decision led her to form a partnership with TrekDesk Treadmill Desks, her employer FiltersFast.com and WinetoWater.org, an organization dedicated to bringing clean water to the poorest corners of the world.
The new partnership as reported in the NBC video is known as W3. Individuals can donate the miles they walk and companies sponsor at a rate of $1 per mile. $1 can provide fresh water for a child for a full year. Dee's inspiration is taking hold. You can learn more about how to donate miles or become a corporate sponsor of W3 by visiting http://www.filtersfast.com/W3 and http://www.winetowater.org.
About TrekDesk Treadmill Desks: Designed to fit any existing treadmill, TrekDesk treadmill desk is an affordable, full sized, height adjustable workstation that allows individuals the opportunity to gain the necessary amount of exercise daily to maintain health, prevent disease, strengthen muscles, boost mood and productivity, without requiring additional time during the day or extra motivation. Let TrekDesk show you how to workout at work.
TrekDesk is currently available for sale online at http://www.trekdesk.com.
Join the TrekDesk "Movement Revolution" to learn more, win a free TrekDesk or ask any health related questions anytime at http://www.facebook.com/trekdesk, or follow TrekDesk on twitter -http://www.twitter.com/trekdesk.