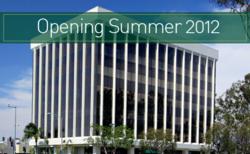 "The Costa Mesa Chamber of Commerce has been a staple in the Orange County community for years and we are thrilled to become members," said Victor Memenas, Chief Executive Officer for TechSpace. table
Costa Mesa, CA (PRWEB) April 30, 2012
TechSpace Holding Co., announces their membership to the Costa Mesa Chamber of Commerce effective May 1, 2012. TechSpace is the industry leader in providing innovative, community-oriented, superior office space to up and coming small to mid-sized businesses. With offices nation-wide, they are proud to announce their newest location opening in Costa Mesa in the summer of 2012. The Costa Mesa Chamber of Commerce is an advocate for economic growth, networking, referral services and community development while TechSpace is an advocate for small to mid-sized business development, growth and success.
"The Costa Mesa Chamber of Commerce has been a staple in the Orange County community for years and we are thrilled to become members," said Victor Memenas, Chief Executive Officer for TechSpace. "TechSpace offers the perfect solution for flexible, affordable office space and is perfect for those owning their own small business like so many people do today, especially in the Costa Mesa area. We look forward to an ongoing relationship with the Costa Mesa Chamber of Commerce and being an asset for the members and business leaders alike."
TechSpace is committed to being very active in the local business community of Costa Mesa. The chamber hosts a variety of networking events from luncheons to golf tournaments, which TechSpace is extremely excited to partake in. The chamber offers a variety of ways for local businesses to become inundated and placed in front of other business leaders and members from newsletter ad opportunities in their prestigious, Business Outlook, online advertising and more.
"We couldn't be more excited to move forward with our relationship and membership with the Costa Mesa Chamber of Commerce," said Memenas. "The membership with the chamber will allow us to expand our unique office and technology solutions to a wider audience in the local arena."
TechSpace is an all-encompassing solution for business owners looking for a place where they can find furnished office space, technology services and products, a community environment and an innovative workspace to excel in their business. TechSpace Costa Mesa will feature smartly configured floor plans designed to promote worker productivity in a collaborative environment. The brand new innovative office will be located at 3420 Bristol Street, Costa Mesa, California.
About TechSpace:
With multiple facilities across the United States, TechSpace's unique outsourcing platform for companies combines flexible workspace options with completely integrated state-of-the-art technology and business services. This alternative office space formula preserves capital and keeps overhead to a minimum, creating an ideal solution for small to mid sized companies, especially during today's unpredictable economic times. Scalable terms allow room for upsizing or downsizing as necessary without the high cost of moving, including everything from workstation furniture, advanced voice and data telecommunications, IT infrastructure, reception services and office supplies. By utilizing this platform companies are free to concentrate on enhancing their core competencies while more effectively managing their businesses.