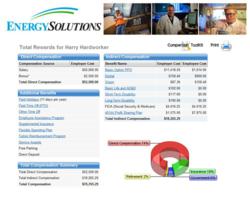 I am confident that The Recruiting Advantage played a major role in our percentage of accepted offers being at over 95%.
Eric S. Lundstrom, Director of Talent and Development
Salt Lake City, UT (PRWEB) April 29, 2012
Being in a specialized industry, EnergySolutions recognized that attracting top talent is very competitive. They felt a need to differentiate their employment offer from their competitors' offer. In March of last year, they implemented a tool which helps them showcase their benefits and better communicate the "total rewards package" to prospective employees.
The Recruiting Advantage™ (TRA) from Charlotte, NC based Employee Benefits Communications, gives current candidates the ability to model their multiple benefits options (medical, dental, life, disability, retirement, PTO, etc.) so that they can not only better understand their benefits, but can also do what-if analysis on their options. TRA is deployed as Software as a Service (SaaS) and gives the candidate access to a secure, customized web page. The candidate can "drill down" into the benefits and available plans, see the employee costs, eligibility rules, and coverage for each of the plans as well as the participating doctors and hospitals so they can effectively measure and evaluate their options. After inputting their salary, bonus and benefit choices, the candidate will see a personalized "Total Rewards Statement" which displays all of their direct and indirect benefits including the comprehensive value of the offer of employment in a graphical, easy to understand format. Candidates are now able to make a more informed decision and get a better understanding of the benefits plans the Company has to offer. This additional service plays an important role in attracting top talent to EnergySolutions.
"Recruiting engineers and other specialized talent has become very competitive. The Recruiting Advantage™ has helped EnergySolutions to highlight our total rewards offers and secure our first candidate choice. I am confident that TRA played a major role in our percentage of accepted offers being at over 95%."
-Eric S. Lundstrom, Director of Talent and Development
Quotes from candidates who have used the tool include:
"I utilized the Advantage Link in order to make sound judgments for employment with EnergySolutions. I did comparative analysis on a few different job offers and found the tool very useful in making those decisions. I found it to be very useful."
"The Recruiting Advantage™ is a revolutionary tool that has significantly enhanced our recruiting and onboarding process. To be able to offer the service of giving potential employees the ability to model their benefits to better assist them in making their employment decision is invaluable. I'd highly recommend The Recruiting Advantage™ to any company that is looking to add a unique and powerful tool to their recruiting process."
"This link is excellent and it provides crazy "engineers" like myself the opportunity to do "what if" drills!"
"The feedback at our HR conference in Charleston provided that "wow factor" that I love so much"
This new tool also shows EnergySolutions' commitment to cutting edge technology and is helping new employees to assimilate into the organization more quickly. TRA gives EnergySolutions a true recruiting advantage.
About EnergySolutions:
EnergySolutions is an international company headquartered in Salt Lake City. As a worldwide leader in the safe recycling, processing and disposal of nuclear material, we provide innovations and technologies to the U.S. Department of Energy, commercial utilities, medical and research facilities. In the United Kingdom, we operate and provide nuclear decommissioning services for 22 nuclear power plants.
We remain committed to the future of responsible energy in the United States and to our role in helping our country achieve energy security, reduce carbon emissions and protect the environment through clean, safe and affordable energy sources.
About Employee Benefits Communications:
For over 20 years Employee Benefits Communications has focused on communicating the value of benefits in the overall compensation matrix for employees and candidates. Using the latest software and production methods, they have developed a system of customizing the Total Rewards Statement to present, in a clear and easy way, all direct and indirect benefits for each of your employees. In addition they have developed a software service, The Recruiting Advantage™ (TRA), which helps prospective employees to personally model their benefits options and view a graphic display of their total rewards. This assists companies in getting their top talent choice.
Employee Benefits Communications currently serves clients in 23 states and is available to clients nationwide.