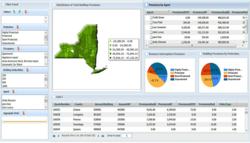 The real-time simulation and reporting capabilities in this version of SpreadsheetWEB truly empower the business user
Cambridge, MA (PRWEB) April 29, 2012
For years, anyone wishing to develop complex mathematic and/or statistic models turned to Excel. By adjusting lengthy algorithms and model parameters against a data set, business users ran a form of What-If scenario. However, with the advancements made in SpreadsheetWEB Version 3.4, users can now automate the process of running those simulations in distributed server environments. Business analysts can setup a simulation, based on an Excel model, in just minutes. Real-time reporting capabilities allow users to analyze the results, using interactive data visualization tools, all without the need for IT resources.
The ability to quickly build a model in Excel, run it against a database and have the results automatically displayed for review, has an immediate application in many industries. Some examples of the utilization of SpreadsheetWEB's new abilities would include; running actuarial pricing models against an insurance company's existing customer base, running a fraud detection model against credit card activities in a bank's database, or running an investment model against daily stock prices.
"The real-time simulation and reporting capabilities in this version of SpreadsheetWEB truly empower the business user," said Ugur Kadakal, Ph.D., CEO of Pagos. "By shifting model execution from weaker desktop computers to distributed, powerful server environments, we've ensured that even complex simulations run quicker. In addition, the fully integrated data visualization and reporting features make it easier for users to analyze the results. A familiar interface, faster simulations, visual data displays and clean reporting. It all adds up to better decision making. Businesses need to be able to analyze complicated data quickly and make effective decisions, in order to stay competitive."
About Pagos, Inc:
Pagos is a leading technology and IT services provider, delivering software solutions and IT consulting services to clients in various industries. Pagos solutions empower companies to simplify application development and maintenance by making business users active participants in the process. This enables business and IT units to focus on their core business roles to drive innovation. Pagos is located in Cambridge, MA. For more information, visit http://www.pagos.com.