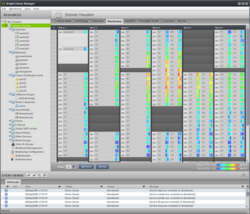 Bright includes advanced capabilities that are of particular interest to Cray's customers.
San Jose, California (PRWEB) April 27, 2012
Bright Computing today announced that the company will present at the Cray User Group conference beginning Sunday, 29 April in Stuttgart, Germany. Matthijs van Leeuwen, CEO, will team up with Martijn de Vries, CTO, to discuss how Bright Cluster Manager® provides system administrators with a comprehensive view of Cray HPC systems, manage these resources, and extend their reach into the Amazon EC2 cloud. The audience will hear how Bright increases system throughput while reducing the need for human intervention, freeing system administrators to work on other priorities.
Bright Cluster Manager provides comprehensive cluster management in one integrated solution, spanning deployment, provisioning, scheduling, monitoring, and management. Its intuitive GUI provides complete system visibility and ease of use for multiple clusters simultaneously, including automated tasks and intervention. Bright also provides a powerful cluster management shell for those who prefer to manage via a command-line interface.
Bright includes advanced cluster management capabilities that are of particular interest to Cray's customers, including image-based provisioning, built-in redundancy via automatic failover, support for diskless nodes and proven scalability to TOP500 class configurations.
Bright Computing and Cray have a longstanding partnership. Cray uses Bright Cluster Manager for its external servers (large-scale Lustre file systems, login servers, data movers, pre- and post-processing servers), and Cray storage solutions. Cray has also used Bright Cluster Manager create additional services for its customers.
About the Cray User Conference
CUG 2012 will be hosted by the High Performance Computing Center Stuttgart (HLRS) in Germany from April 29th to May 3rd. This year's conference theme is Greengineering the Future. Click here for more information, or to register.
About Bright Computing
Bright Computing specializes in management software for clusters, grids and clouds, including compute, storage, Hadoop and database systems. Bright's fundamental approach and intuitive interface makes cluster management easy, while providing powerful and complete management capabilities for increasing productivity. Bright Cluster Manager is the solution of choice for many research institutes, universities, and companies across the world, and is used to manage several Top500 installations. Bright Computing has its headquarters in San Jose, California. http://www.brightcomputing.com
Bright Cluster Manager is a trademark of Bright Computing, Inc.