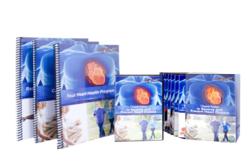 Many people think it could never happen to them. They think they are invincible
Calgary, AB (PRWEB) April 30, 2012
The Heart Fit Clinic has released the number one program to treat heart disease. Everyone thinks they are invincible and it can never happen to them. This disease is the number one killer for a reason. Surviving a heart attack is fortunate and heart attack patients are given a second chance to now reverse this disease process. "Many people think it could never happen to them. They think they are invincible", says Diamond Fernandes, Founder and Director of Heart Fit Clinic.
People presented with a heart attack, chest pain or some form of cardiovascular disease have an uphill climb with a lot of work to reverse this disease process. Unfortunately the number of people with recurring heart problems is alarming. Going to the hospital is not your only treatment for heart disease. Your treatment is out of the hospital and how you change your life. Heart medications along with having a stent or bypass surgery can be options to treat this disease, but this will not reverse heart disease.
There are four important components to know to reverse this disease process. The first component is exercise. Exercise is medicine, specifically aerobic exercise. The Heart Fit Clinic has the heart experts to ensure you are exercising safely and effectively. A key component to reversing heart disease and heart disease treatment is to have the daily sweat. There is no magic pill other than discipline.
The next component is eating heart healthy. Yes most people know what to eat, but are we? Nutrition is so important to reverse heart disease. Foods high in antioxidants and that help inflammation are the ones that are not advertising to us in the grocery store.
The third component is controlling stress. Stress is everywhere and everyone has stress, it is just so important to have good coping strategies to combat stress. Yoga, tai chi, and meditation are so important to reverse heart disease and treat heart disease.
The last component is smoking, second hand smoking and controlling environmental factors. Limiting or stating away from inflammatory environments which includes a smoke free lifestyle are key to treating heart disease. Yes, smoking is an addiction but it this will result in quick visits back to the emergency room. Finding ways to quit are important and there are many. The Heart Fit Clinic heart specialists have strategies to help you reverse heart disease.
Many cardiologists and physician lack the time and availability to really promote the reversal of heart disease. Medications are important however they are not the answer to reverse heart disease. Patients are 100% responsible for your heart health. Not their spouse not their doctor.
"It is really not about you, it is about the people we love in our lives, the people who care about us, the people who depend on us at work and elsewhere. So looking at it in that context is what will help you find your purpose be a success." Doctor Oz talks about this often and the Heart Fit Clinic agrees with this comment.