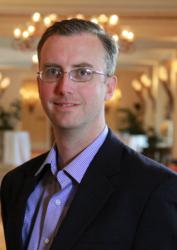 I look forward to doing really big things at Inktel.
Miami Lakes, FL (PRWEB) April 30, 2012
Inktel Contact Center Solutions, a leading business process outsourcer, is excited to announce the hiring of Mark Hamilton as Vice President of Business Development. Mark brings over 15 years of professional experience within the contact center BPO marketplaces and will focus Inktel's Business Development efforts within the Consumer Product Goods and Business to Business industries.
"With his deep knowledge of CPG and his track record of establishing great relationships, Mark is a difference-making addition to our business development team," stated Ricky Arriola, President and CEO of Inktel. "At Inktel we believe that growth and success come from doing everything necessary to be our clients' most trusted partner. Mark is truly an expert in the industries he has served, and he is passionate about developing relationships in a true spirit of partnership."
"I look forward to doing really big things at Inktel," Mark said, "today, businesses are looking for a partner that has both innovative and creative solutions that provide bottom line results. There is no better partner today providing their clients with real results than Inktel."
Prior to joining Inktel, Mark spent the last 7 years with AFFINA (now HGS). Mark also serves on the Board of Directors of SOCAP (Society of Consumer Affairs Professionals).
About Inktel Contact Center Solutions
Inktel Contact Center Solutions LLC is a leading business process outsourcer specializing in contact center services. As one of the top outsourcers in the United States, Inktel provides Contact Center Solutions to many Fortune 500 companies, federal/state/local government agencies, not-for-profit agencies and other leading organizations. The rapidly growing organization has received multiple awards and recognition including the "Best Company to Work For" in all of Florida (Florida Trend), the "Best Place to Work" in South Florida for three years in a row (South Florida Business Journal) and one of Crain's Business Magazine's "Best Places to Work" in Chicago! Inktel has operations nationally, including offices in Miami, Chicago, Dallas, New York City and Ft. Lauderdale, among other cities. Company news and background information are available at http://www.inktel.com or call 1-888-4-INKTEL.