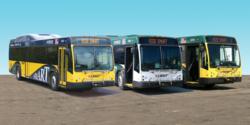 Detroit, MI (PRWEB) April 30, 2012
SMART has a proposition in May for Metro Detroiters who drive alone to work or school called Commuter Challenge 2012. It's eight bullet points deep and sweetened with prizes and benefits.
SMART, with members of Transportation Choices, is challenging residents to take the bus, vanpool, carpool, bicycle, walk or telework at least once in May. The short-term goal is to increase awareness of transportation options available in the region and to give an alternative ride a try, which may ultimately generate long-term environmental and financial benefits for residents. Those who already choose an alternative commute are also welcomed to participate in the Challenge.
New this year is the Business-to-Business Competition, a friendly battle among local employers for the coveted "Most Green" title. SMART and members of the Transportation Consortium are working closely with local businesses to encourage employees to take Commuter Challenge 2012. Compuware Corporation and Quicken Loans are among the participating companies.
"This event encourages everyone to try a form of transportation that is more eco-friendly," said John C. Hertel, general manager of SMART. "You quickly discover that you can save a lot of money and that your commute can be really stress-free when riding the bus or carpooling with co-workers. Everybody wins."
SMART, with members of Transportation Choices, offers eight reasons why residents should consider the bus or other alternate transportation in May:
1. Win prizes. (Tigers tickets, restaurant gift cards, DIA passes, and hotel stays)
2. Save money. (A 31-Day Pass costs less than two fill-ups at the pump.)
3. Reduce your carbon footprint. (One SMART bus potentially eliminates 60 cars on the road.)
4. Be social, safely text throughout your commute.
5. No parking fees or related hassles.
6. Reduce vehicle maintenance costs and overall wear on your vehicle.
7. Enjoy the view from the best seats on the road.
8. Get fit. (Bike or walk to the bus stop. All SMART buses are equipped with bike racks.)
Participants can go to facebook.com/detroitcommuterchallenge to find out more information and how to register. The more you ride the better chance you'll have to win the great prizes. Commuter Challenge 2012 is sponsored by the Transportation Choices consortium, which
includes Compuware Corporation, Quicken Loans, Detroit Bikes!/Detroit Synergy, Detroit Department of Transportation, Detroit Transportation Corporation, League of Michigan Bicyclists, Michigan Department of Transportation, MichiVan, Commuter Vanpools/VPSI Inc., Southeast Michigan Council of Governments, Transportation Riders United and SMART.
Serving since 1967, SMART is Southeast Michigan's only regional public transportation provider, offering convenient, reliable and safe transportation for Macomb, Oakland and Wayne Counties. SMART's Fixed-Route and small bus services connect people to employment and educational institutions. SMART is supported by federal and state funding, local contributions through a transit property tax millage from opt-in communities and bus fares. For SMART routes and fare information visit smartbus.org or call Customer Service at (866) 962-5515 to talk with transit specialist.