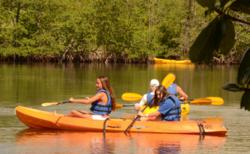 Sunny Isles Beach, FL (PRWEB) April 30, 2012
The City of Sunny Isles Beach, Cultural and Human Services Department is pleased to offer an array of camp opportunities for the Summer of 2012. This offering includes a part-time toddler camp, full-time general day camps, full-time specialty camps, and full-time sports camps. General day camps are divided into groups based on age/grade level for Fall 2012 (Freshman is for Kindergarten and 1st graders; Sophomores are 2nd and 3rd graders; Juniors are 4th and 5th graders; Seniors are 6th, 7th, and 8th graders). Activities will include on-site indoor games, sports, arts & crafts, along with field trips to various venues throughout South Florida (Lion Country Safari, Metro Zoo, Rapids Water Park, Ice Skating, Bowling, etc.).
Specialty camps this summer will include the ever-popular Junior Lifeguard Camp. This camp provides strong swimmers an opportunity to learn the basic skills of lifeguarding, along with education about marine life, and beach safety. Experienced participants can try-out for the Elite Squad (July 30th thru August 10th), where participants will have the chance to compete against other local junior lifeguard programs. Other Specialty camps this summer include Fine Art, Art of Superheroes, Stop Motion Animation, Dance Camp, Musical Theatre, Lego Robotics, and Circus Camp.
The Athletic Division will continue to offer camps for the community that will provide exposure to various sports. These include Baseball, Basketball, Cheerleading, Flag Football, Soccer, and Volleyball.
Fees for all camp programs are based on residency. Proof of residency can be presented in the form of a utility bill (cable, phone, or electric) dated within the last three months, or with a Sunny Isles Beach Resident ID Card. For more details on camps, please see the city's website, http://www.sibfl.net.