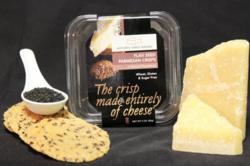 Syosset, NY (PRWEB) April 27, 2012
Kitchen Table Bakers, the creators of gourmet 100% Aged-Parmesan Crisps, has been named a sofi™ Silver Finalist by the National Association for the Specialty Food Trade (NASFT) for its Flax Seed Parmesan Crisps in the category of "Outstanding Diet and Lifestyle Products." This marks Kitchen Table Bakers' 10th recognition from this esteemed food authority in the past eight years.
"We have worked very hard to secure our place in the specialty food industry and we are happy to see that our efforts, dedication and crisps are continuing to gain recognition," states Seth Novick, co-founder (Vice President) of Kitchen Table Bakers. "The Flax Seed Crisp is a particular favorite for nutritionists and healthy eaters. It provides that crunchy and salty taste dieters crave, but contains less than a gram of carbohydrates and is also high in Omega 3."
The nine-year-old company has previously been awarded in the categories of "Most Outstanding Diet and Lifestyle Product",(2009) "Most Outstanding Cracker"2010 and 2011, and "Most Outstanding Food Service Item"(2011), some of the highest honors in the specialty food trade. "Sofi" stands for Specialty Outstanding Food Innovation and is the top honor in the $75 billion specialty food industry.
"This year's contest was the most competitive yet," says Ann Daw, NASFT president. "The foods that made it to the finals are proof that the spirit of innovation and creativity is thriving in the specialty food industry."
Kitchen Table Bakers is one of 110 Silver Finalists selected by a national panel of specialty food experts. The judges evaluated 1,935 entries across 30 Award categories including Outstanding Appetizer, Antipasto, Salsa and Dip to Outstanding Vinegar. Gold Winners will be announced by noted chef José Andrés at a red-carpet ceremony on June 18, 2012, at the Summer Fancy Food Show in Washington, D.C.
Kitchen Table Bakers bake aged Parmesan cheese to create an all-natural snack that is gluten, wheat, sugar and trans fat free. With little to no carbs or calories, the Parmesan crisps are high in protein and calcium, with the Flax Seed particularly rich in Omega 3. The crisp can be found in Specialty/Cheese Departments in Wegman's, Grace's Market, Safeway, Whole Foods and Fresh Market among other finer markets and health food stores as well as http://www.kitchentablebakers.com
About Kitchen Table Bakers
Kitchen Table Bakers, founded in 2003, crafts nine varieties of gourmet Parmesan cheese crisps, including Aged Parmesan, Sesame Parmesan, Rosemary Parmesan, Italian Herb Parmesan, Garlic Parmesan, Jalapeno Parmesan, Everything, Flax, Basil Pesto Parmesan and Aged Parmesan Mini Crisps. All Kitchen Table Bakers products are gluten, wheat and sugar free. The company's products have been recognized by the National Association of the Specialty Food Trade (NASFT) with six silver sofi awards and four gold sofi awards, which acknowledge the best food and beverages the specialty food trade has to offer. To learn more, visit http://www.kitchentablebakers.com.