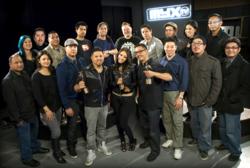 "When we set our goal to redefine Asian American entertainment, we understood that we were going set the standard for excellence in our field. Our team continues to do just that and wave our community's flag with pride."
Redwood City, CA (PRWEB) April 27, 2012
MYX TV, the premier Asian American entertainment network in the United States, adds another feather to its cap. Its variety show, MYX-Rated, won the coveted bronze Telly Award for its episode on "Making MYX-Rated: The Documentary," besting nearly 11,000 entries from 50 states. The network's first series shot entirely in high definition features everything Asian and awesome from pop culture to music, fashion, and events, and is hosted by comedian Joey Guila and Keiko Alingas.
The award-winning episode gives viewers an in-depth, behind-the scenes look at the creative process of the show's production. MYX-Rated first premiered on MYX TV in March 2011 and has run for two full seasons. Currently, it airs on Thursday nights at 10pm.
"We started the show because we wanted to introduce something new and cutting edge to the channel," says Roland Posadas, Producer and Director of MYX-Rated. "I'm especially honored that the documentary episode won a Telly Award because it displayed the hard work and passion that our cast and crew has for making the show - a testament to the vast array of talent that we were able to showcase both behind and in front of the camera."
MYX-Rated has hosted celebrities such as Far East Movement, Naughty by Nature, DJ Q-Bert, UFC fighter Mark Munoz, The Bangerz, ABDC champions Jabbawockeez and IaMmE, and Justin Beiber's World Tour vocalists, Legaci. Rising entertainers online David Choi, Ryan Higa, Clara C, Lil' Crazed, and Erin Paula are no stranger to the show either.
The show has likewise brought on board movie stars like John Cho and Kal Penn for A Very Harold & Kumar 3D Christmas, Vanessa Hudgens for Sucker Punch, Vin Diesel and Duane "The Rock" Johnson for Fast 5, and Tom Cruise for Mission Impossible: Ghost Protocol.
The Telly Awards was founded in 1979 and is the premier award honoring outstanding local, regional, and cable TV commercials and programs, the finest video and film productions, and online commercials, video and films. Winners represent the best work of the most respected advertising agencies, production companies, television stations, cable operators, and corporate video departments in the world.
"The Telly Awards has a mission to honor the very best in film and video," said Linda Day, Executive Director of the Telly Awards. "MYX TV's accomplishment illustrates their creativity, skill, and dedication to their craft and serves as a testament to great film and video production."
"When we set our goal to redefine Asian American entertainment, we understood that we were going set the standard for excellence in our field," said Miguel Santos, Associate General Manager for MYX TV. "Our team continues to do just that and wave our community's flag with pride."