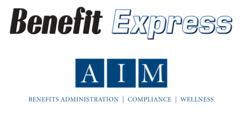 We are excited to announce AIM as our trusted partner in claim audit administration and are confident AIM will provide the customer focus and audit solutions our clients need
Arlington Heights, IL (PRWEB) April 30, 2012
Benefit Express Services, LLC, a leader in providing benefits administration for large, medium and small organizations, announced today the addition of AIM, an affiliate of Conner Strong & Buckelew, to their Trusted Partner Ecosystem.
AIM provides a range of claims audit and related services that can help Benefit Express' customers manage their employee benefit plans. Specifically, AIM develops and implements custom administration solutions, comprehensive compliance and audit services, and wellness programs. "We are excited to announce AIM as our trusted partner in claim audit administration and are confident AIM will provide the customer focus and audit solutions our clients need," said Doug Hammond, Vice President of Sales and Business Development.
Benefit Express introduced the Trusted Partner Ecosystem in March. The goal of the program is to reduce clients' time and effort in acquiring various services by creating a single one-stop platform. Through the establishment of partnerships like this, Benefit Express clients are offered pricing efficiencies for the additional services they need at a level of support and expertise they desire. For more information, please contact Benefit Express at 847.637.1550 or sales(at)mybenefitexpress(dot)com.
About AIM
AIM is a leading employee benefits solution firm that provides organizations with innovative health and welfare benefits administration, compliance and wellness services. The firm's specialties include benefits eligibility and enrollment systems, client billing and third party administrative (TPA) services, health and wellness solutions, member advocacy and personalized coaching, compliance and auditing services and advisory as well as productivity tracking services.
AIM is an affiliate of Conner Strong & Buckelew, a leading insurance, risk management and employee benefits brokerage and consulting firm.
About Conner Strong & Buckelew
Conner Strong & Buckelew is a leading insurance, risk management and employee benefits brokerage and consulting firm. Through proprietary approaches, the firm offers customized programs designed to align with organizational goals and drive bottom-line growth. Founded in 1959, with offices in New Jersey, Pennsylvania, Delaware and Florida, Conner Strong & Buckelew ranks among the largest insurance brokerages in the country. Each year, the company places approximately $1 billion in premium volume and has a team of nearly 300 professionals, serving clients throughout the United States and abroad. For more information, visit http://www.connerstrong.com.
About Benefit Express
At Benefit Express, the focus is on flexible administration solutions. Their self-service platform - My Benefit Express™ - delivers tools which help clients efficiently manage HR & Benefits Administration. With My Benefit Express™ clients have direct access to: customized content delivery, enrollment assistance, employee benefit education tools, transactional administrative processing/tracking, carrier billing reconciliation, vendor data-links and detailed HR reporting. Benefit Express' solutions provide the flexibility for clients to choose how, where and by whom work gets done. For more information, visit http://www.BenefitExpressOnline.com