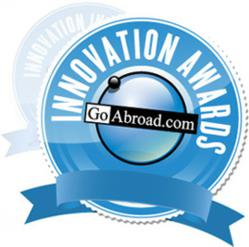 Showcasing the Best of Originality, Creativity and Exceptional Ideas in International Education.
Fort Collins, CO (PRWEB) April 30, 2012
GoAbroad is pleased to announce the finalists in each of the 2012 GoAbroad Innovation Award categories. After extensive review and consideration, these top nominees were selected from the hundreds of diverse nominees which GoAbroad received.
Each finalist was evaluated based on the quality of the submission, combined with the originality, creativity, and exceptional ideas expressed in the contribution. GoAbroad was thrilled to have so many amazing nominations made this year, and would like to congratulate all those who contributed a nomination – because of the hard work and dedication to making a difference in the field of international education, the world is a more enriched and innovative place.
Without further ado, here are the 2012 GoAbroad Innovation Award Finalists!
INNOVATION IN GLOBAL ACCESS & EQUITY
1. Center for Global Education, Augsburg College: "Summer Academic Program in Mexico"
2. Institute for the International Education of Students (IES Abroad):
"Chicago Scholars Abroad"
3. Institute for Study Abroad Butler University: "Achievement-Based Scholarship Program"
4. San Francisco State University: "Office of International Programs"
5. NYU Office of Global Programs: "LGBTQ Within the Global Network"
INNOVATION IN MARKETING
1. EF International Language Centers: "Live the Language Films"
2. Academic Programs International (API): "Learning Transformed. Life Transforming." Tagline & Campaign
3. University of Maine – Study Abroad Office: "Celebration Radio Show"
4. CIEE: "2 Months 35 Countries with CIEE Campaign"
5. Athena Study Abroad: "Catalogue and Marketing Visual"
INNOVATIVE NEW PROGRAM - INTERNSHIP
1. Academic Studies Abroad (ASA): "Internship Scotland & University of Edinburgh Business School"
2. Actuality Media: "Actuality Media Internships"
3. Global Experiences: "Project Moda"
4. Institute for Education in International Media (ieiMedia): "Summer Journalism Internship in Istanbul"
5. Monterey Institute of International Studies: DPMI Practicum/Emily Patrick
INNOVATIVE NEW PROGRAM - STUDY ABROAD
1. Bard College – Institute for International Liberal Education: "Al-Quds Bard Study Abroad Program in West Bank"
2. Center for Global Education/Wheaton College: "Study Abroad Program in Kingdom of Bhutan"
3. CAPA International Education: "Analyzing & Exploring the Global City"
4. University of Minnesota Twin Cities/Academic Programs International (API): "Arab Media – Al Jazeera in the Time of Revolution"
5. University of Maryland: "Microfinance in Action"
6. Arcadia University, The College of Global Studies: "Renewable Energy – Policy and Development"
INNOVATIVE NEW PROGRAM - VOLUNTEER
1. Earthwatch "On the Trail of Giant Pandas"
2. Give and Surf: "Give and Surf Non-Profit"
3. Rustic Pathways: "Women Speaking"
4. Service for Peace: "The Global PeaceMakers (GPM) Program"
5. CEA Global Education: "International Service Learning – Society, Inequality & Social Exclusion"
PEOPLE'S CHOICE
1. GlobaLinks Learning Abroad
2. CIEE
3. Education Abroad Network
4. Institute for the International Education of Students (IES Abroad)
5. Danish Institute for Study Abroad (DIS)
INNOVATIVE USE OF SOCIAL MEDIA:
1. International Studies Abroad (ISA): "Worldwide Alerts"
2. Academic Programs International (API): "Social Media Platforms & Engagement"
3. CRCC Asia: "Unique Use of Localized Social Media Outlets"
4. Rustic Pathways: "It's Good to Go Sweepstakes"
5. University of California, Davis: "Aggies Abroad Network"
STUDENT VIDEO
1. CRCC Asia: "Summer 2011 Video Competition" by Kate Gantner and Andrew Ignacio"
2. IES Abroad: "Christchurch New Zealand"
3. Rustic Pathways: "Thailand – Introduction to Community Service (Ricefields Base)"
4. St. John's University: "Guate-Love-It" Music Video
5. Embassy of Australia/Austrade: "OZ" by Erin Kerr
6. University of South Carolina: "International Experience: Groningen"
INNOVATION IN SUSTAINABILITY
1. Center for Ecological Living and Learning (CELL): "CELL's Programs"
2. Living Routes: "Study Abroad in Sustainable Communities"
3. ProWorld: "Cleaner Burning Stove Project"
4.The School for Field Studies: "The SFS Center for Sustainable Development Studies"
5. University of Oregon: "Sustainability Programs"
INNOVATIVE USE OF TECHNOLOGY
1. Universidad VERITAS: "e-Admissions Portal"
2. University of South Carolina: "Online Pre-departure Orientation"
3. Volunteering Solutions: "Mobile MyAccount"
4. SIT Graduate Institute and SIT Study Abroad: "LibGuides"
5. FundsV Working Group: "Online Banking"
About GoAbroad.com
GoAbroad.com has been the web's premier resource for meaningful international experiences and alternative travel opportunities for more than a decade. The site boasts the largest and most comprehensive travel directories available online, while providing the most up-to-date and accurate information on programs available worldwide. GoAbroad.com's GoMedia services also offer a distinct range of internet marketing solutions for international education, including website design and comprehensive social media management.